Contents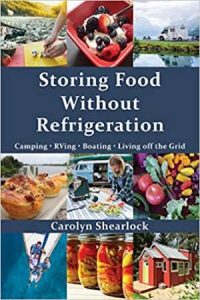 Buy Now
With a little planning and foresight, refrigeration is absolutely not necessary. In this book, the author discusses how to store food and make delicious meals without the use of a refrigerator.
Broken down into handy categories, this reference guide gives techniques on how to properly wash, store, treat, and cook your food for maximum flavor and usability.
Written by a dedicated sailor whose own skills were honed on months-long journeys, the tips in this guide can be put to use by anyone trying to avoid heavy, power-sucking refrigerators. Sailors, campers, and hikers all could benefit, and the books serves equally well for those in RVs, those with limited space, and those trying to live off the grid.
By: Carolyn Shearlock
Publisher : Blue River Press (March 1, 2019)
ISBN-13 : 978-1681571478
EXCLUSIVE BOOK DISCOUNTS FOR NOONSITE USERS
Imray & Adlard Coles Pilot Books can be purchased with an exclusive Noonsite discount of up to 15% by visiting our Imray store if shopping from the UK or Europe.
For North America and the rest of the world visit Bluewater Books & Charts. When ordering through Bluewater be sure to enter the coupon code NOON during checkout to save 10%.