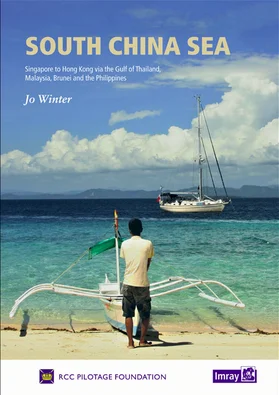 This beautifully illustrated cruising guide published late 2019 covers Singapore to Hong Kong via the Gulf of Thailand, Malaysia, Brunei and the Philippines with expanded coverage of Cambodia and Taiwan.
This is an area that is relatively "off" the standard cruising route and is very much in its infancy as a cruising ground.
Author Jo Winter has been cruising these waters for the past 12 years and in conjunction with the Royal Cruising Club Pilotage Foundation and a number of cruisers who know the region well, has produced a comprehensive guide that incorporates Stephen Davies and Elaine Morgan's Cruising Guide to Southeast Asia, Volume I (Imray).
As well as offering useful guidance and routing for cruising boats heading through the region, it also focuses on detailed information for sailors who are looking for more intensive exploration.
The guide includes weather information, piracy risk, sailing directions with small and larger scale area plans, provisioning tips, details on marine life as well as a language glossary. It also gives good coverage of the limited yachting facilities that are available here and lots of tips on how to adapt to cruise here successfully. Mixed in are references to the history of each region, the culture, politics and officialdom which helps the reader get a good insight into what to expect.
A particularly nice touch are the number of photographs in the guide and local tourist information in between port information. This definitely makes it a page-turner and even if the South China Sea is not yet on your cruising itinerary, once you've read this book it definitely will be!
South China Sea
Royal Cruising Club Pilotage Foundation
Author: Jo Winter
Published by: Imray Laurie Norie & Wilson
Printed Book Price: £55.00
This title is also available to download as a PDF version from Google Play Books.