Contents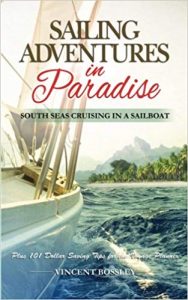 Buy Now
Somewhere between the Galapagos Islands en route to the Marqesas Group in the darkest of nights, at approximately six degrees south of the equator a sailboat is whispering along under full sail. The fresh south east trades are pushing her sleek hull through the coal black water at around eight knots. The man standing at the wheel, wearing ragged shorts only in the warm tropical breeze gently fanning him over the port quarter, helms his craft by starlight alone.
By: Vincent Bossley
Publisher : CreateSpace Independent Publishing Platform; 1st edition (March 5, 2015)
ISBN-13 : 978-150888403
EXCLUSIVE BOOK DISCOUNTS FOR NOONSITE USERS
Imray & Adlard Coles Pilot Books can be purchased with an exclusive Noonsite discount of up to 15% by visiting our Imray store if shopping from the UK or Europe.
For North America and the rest of the world visit Bluewater Books & Charts. When ordering through Bluewater be sure to enter the coupon code NOON during checkout to save 10%.