Sailboat Maintenance Manual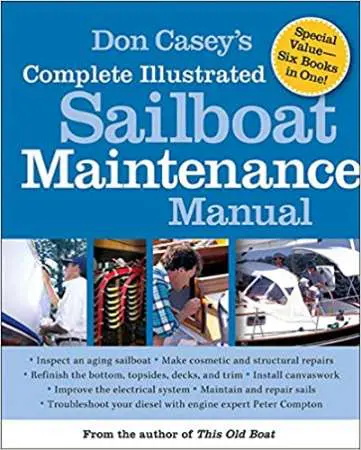 More than 2,500 clear and detailed illustrations guide you step by step through every procedure. Casey's technical virtuosity, his user-friendly explanations, and Peter Compton's diesel engine expertise make even the more complicated repairs and improvements easy to understand. This must-have guide saves you time, money, and grief as you learn the fastest, easiest, most effective ways to:
-Evaluate the condition of your boat or one you're about to purchase.
-Repair structural damage to your fiberglass sailboat.
-Improve or repair your sailboat's electrical system.
-Troubleshoot, maintain, and repair your boat's diesel engine.
-Put a professional-looking finish on your boat's hull, deck, spars, wood, and trim.
-Make and repair sails, sail covers, dodgers, awnings, sailbags, and bimini tops.
By: Don Casey
Publisher: International Marine/Ragged Mountain Press; 1st edition (October 6, 2005)
ISBN-13: 978-0071462846