Contents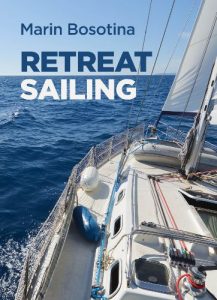 Buy Now
"Retreat Sailing" is a dedication to the all-encompassing benefits that an individual can attain simply by sailing. For beginners who are new to sailing and just starting to dip their toes, it is a useful handbook equipped with sound advice and an abundance of tips. It is a contribution from not only the author's personal experiences but also from other avid sailors from around the globe. Having sailed his whole life, and most notably around the world on his boat "Share Dreams" – a Beneteau 57 from 2010-2016, Marin Bosotina is an experienced and ardent sailor.  As such, "Retreat Sailing" is an effort to encourage and inspire the everyday person to attempt sailing at least once in their lifetime.
Marin is a passionate advocate for sailing and its ability to affect remarkable change to an individual's health and life. The interrelationship between sailing and an individual's health is a relatively unexplored and unknown relationship to many, albeit experienced sailors who can vouch for the many positive impacts of sailing. From this, the inspiration to write "Retreat Sailing" emerged; a book solely dedicated to this relationship, as a means to inform and encourage those who have never sailed, those who are relatively new to the world of sailing, and of course the avid sailor. It is encouraged that the reader selects and enjoys chapters which they perceive as relevant and relatable to their individual lives.
The book also explores the relationship between sailing and a number of mild and serious health conditions, as well as some disorders such as PTSD, and the benefits provided by the open ocean, clean air, and blue skies. "Retreat Sailing" delves into the roles of leadership and what it takes to skipper a boat solo or with a crew, outlining how teamwork on a yacht is valuable to the cohesion of successful sailing and how that transcends into a rewarding employee partnership. In addition, it is a reflection on some of Marin's other passions, such as spending time together as a family, music, nutrition, mental health, and the environment, to name a few. There is a chapter in this book for every type of reader.
Focusing on the connection between sailing and health, it is maintained that there are no limitations as to who can break free from the monotony of everyday life and set sail. This is a book dedicated to those who believe in holistic well-being for both the body and the soul. "Retreat Sailing" features chapters on the connections between sailing and; ADHD, people with disabilities, insomnia, allergies, prostate cancer, arthritis, brain injury, stress, dyslexia, diabetes, epilepsy, chronic illness (MS), and heart attacks. It emphasizes the potential sailing has in providing a restorative experience, and, in some cases, a cure for people that experience such debilitating conditions.
"Retreat Sailing's" intended purpose is to not only be an informative guide to the wonders of sailing but also a holistic guide to achieving better health and longevity.
"I hope that within this book you will find many answers to questions that connect sailing and health – a guide to a simple lifestyle that can be a restorative or a cure for the difficulties that life on land brings to us and those we love"
You can download "Retreat Sailing" free of charge using the following link: https://retreat-sailing.com
EXCLUSIVE BOOK DISCOUNTS FOR NOONSITE USERS
Imray & Adlard Coles Pilot Books can be purchased with an exclusive Noonsite discount of up to 15% by visiting our Imray store if shopping from the UK or Europe.
For North America and the rest of the world visit Bluewater Books & Charts. When ordering through Bluewater be sure to enter the coupon code NOON during checkout to save 10%.