Pacific: Reef Creature Identification – Tropical Pacific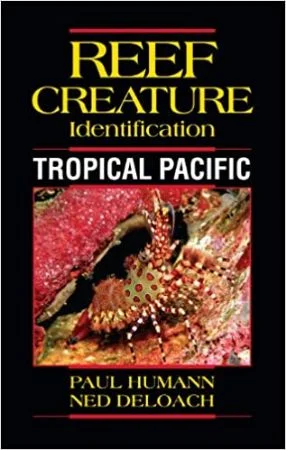 A comprehensive field guide for identifying 1600 marine invertebrates from the tropical pacific with 2000 photographs and descriptive texts that focuses on mobile species, highlighting crustaceans, mollusks, worms and echinoderms.
However the pages include an overview of attached marine animals, and also explore facets of marine invertebrate behavior.
The guide provides a boon of information for diving photographers, underwater naturalists and for the armchair adventurers.
The brilliant gallery of images brings an unseen, unimagined world to the surface like never before.
By: Paul Humann & Ned DeLoach
Publisher : New World Publications; 1st edition (November 8, 2010)
ISBN-13 : 978-1878348449
Related to following destinations: Australia, Federated States of Micronesia, Fiji, French Polynesia, Guam, Indonesia, Kiribati, Malaysia, Marshall Islands, New Caledonia, Northern Marianas, Palau (Belau), Papua New Guinea, Philippines, Samoa, Solomon Islands, Thailand, Tonga, Vanuatu, Vietnam