Contents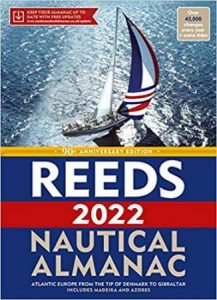 Buy Now
Published each year in September, Reeds Nautical Almanac is the indispensable annual compendium of navigational data for yachtsmen.
It celebrates its 90th year in 2022.
Providing all the information required to navigate Atlantic coastal waters around the whole of the UK, Ireland, Channel Islands and the entire European coastline from the tip of Denmark right down to Gibraltar, Northern Morocco and the Azores.
Now has a downloadable desktop version – the digital service – free to purchasers of the Almanac. Once downloaded onto the user's computer, all of the information within the Almanac will be available without internet access, so it can be used all over the world, wherever you are – at sea or in your office.
New editions continues the Almanac's tradition of year on year improvement and meticulous presentation of all the data required for safe navigation. Now with an improved layout for easier reference and with over 45,000 annual changes, it is regarded as the bible of almanacs for anyone going to sea. A free copy of Reeds Marina Guide is also included.
Includes: 700 chartlets, Harbour facilities, Tide tables and streams, 7500 waypoints, International codes and flags, Weather, Distance tables, Passage advice, Area planning charts, Rules of the road, Radio information, Communications, Safety, Documentation, and Customs.
From January to June free up to date navigation changes are available to download from www.reedsalmanac.co.uk.
Publication Date: September each year
Price: Approx. £50.00 (less with subscription)
Published by: Adlard Coles Nautical
EXCLUSIVE BOOK DISCOUNTS FOR NOONSITE USERS
Imray & Adlard Coles Pilot Books can be purchased with an exclusive Noonsite discount of up to 15% by visiting our Imray store if shopping from the UK or Europe.
For North America and the rest of the world visit Bluewater Books & Charts. When ordering through Bluewater be sure to enter the coupon code NOON during checkout to save 10%.