Contents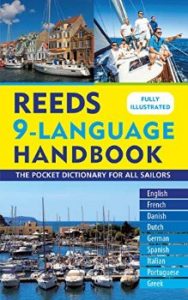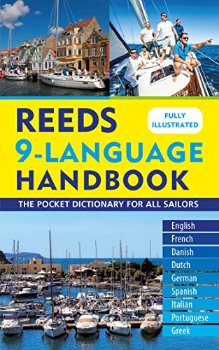 Buy Now
The pocket dictionary is centered around clear, color, annotated diagrams, such as parts of the rig and engine, in each nautical subject area, and makes it very easy and convenient to translate between nine languages (English, French, German, Dutch, Spanish, Italian, Danish, Portuguese and Greek). The diagrams can easily be used to show someone what is meant (or what is broken!) without having to worry about the language barrier. It covers general terms, such as 'port' and 'starboard', as well as technical words relating to engine and rigging repair and maintenance. Other topics include navigation, weather, seamanship, requesting help, medical emergencies, safety equipment, numbers and time.
Publisher : Reeds; 1st edition (February 18, 2021)
ISBN: 9781472984944
EXCLUSIVE BOOK DISCOUNTS FOR NOONSITE USERS
Imray & Adlard Coles Pilot Books can be purchased with an exclusive Noonsite discount of up to 15% by visiting our Imray store if shopping from the UK or Europe.
For North America and the rest of the world visit Bluewater Books & Charts. When ordering through Bluewater be sure to enter the coupon code NOON during checkout to save 10%.