Contents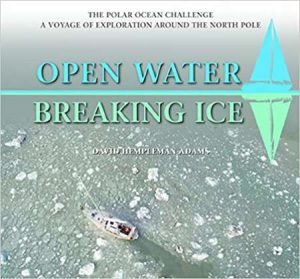 Buy Now
A Polar Circumnavigation: The story of Sir David Hempleman-Adams' full polar circumnavigation via the North East and North West Passages from east to west.
Open Water, Breaking Ice beautifully tells the story of how a man seeking adventure attempts to sail through both the North East and North West Passages in a single season in 2016.
Terra Incognita is the name engraved on early maps given to those regions on earth where no civilised man had yet trod. Such places were the undiscovered planets of their day and they drew early adventurers to them as moths to a flame. For many the attempts to conquer the North East and North West Passages did indeed bring death.
Here, explorers, such as Sir John Franklin and his men, met their lonely end in the icebound arctic wilderness. Today, these once formidable barriers to routes west and east above the arctic circle are now open water, except in winter months, and as a result of global warming are likely to become passable all year in the not too distant future. This will change forever the lives of the people and wildlife who inhabit this once pristine environment, with commercial and political interests lining up to exploit the riches now on offer.
It was to help bring these alarming events to the world's attention that, in 2016, the explorer and adventurer David Hempleman-Adams took a party of fellow adventurers aboard a small yacht, Northabout, in order to attempt to sail through both the North East and North West Passages in a single season.
See review by Tom Cunliffe for Yachting World here
EXCLUSIVE BOOK DISCOUNTS FOR NOONSITE USERS
Imray & Adlard Coles Pilot Books can be purchased with an exclusive Noonsite discount of up to 15% by visiting our Imray store if shopping from the UK or Europe.
For North America and the rest of the world visit Bluewater Books & Charts. When ordering through Bluewater be sure to enter the coupon code NOON during checkout to save 10%.