Contents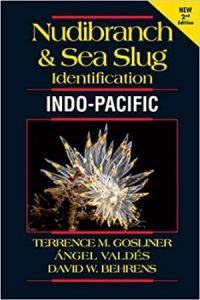 Buy Now
This second, updated and reorganized edition, includes 185 new species. Among other features, the new edition includes additional photographs, an identification key, and an up-to-date classification.
The Indo-Pacific represents the largest expanse of tropical ocean in the world, stretching from the Indian Ocean coast of southern Africa and the Red Sea to the central Pacific of the Hawaiian Islands, Easter Island and the Marquesas.
This region supports the most diverse marine fauna of any place in the world for most groups of marine organisms. The nudibranchs and sea slugs are no exception to this rule; there are about 3,000 described species of these organisms in the world and at least 40% of these have been found exclusively in the Indo-Pacific tropics.
This book illustrates 2,138 Indo-Pacific nudibranchs and sea slugs, including many undescribed species.
By: Terrence Gosliner, Angel Valdes & David Behrens
Publisher: New World Publications; 2nd edition (November 1, 2018)
ISBN-13 : 978-1878348678
EXCLUSIVE BOOK DISCOUNTS FOR NOONSITE USERS
Imray & Adlard Coles Pilot Books can be purchased with an exclusive Noonsite discount of up to 15% by visiting our Imray store if shopping from the UK or Europe.
For North America and the rest of the world visit Bluewater Books & Charts. When ordering through Bluewater be sure to enter the coupon code NOON during checkout to save 10%.