Contents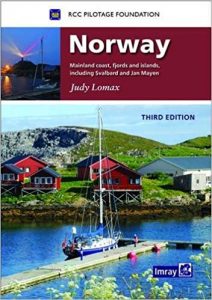 Buy Now
This is a cruising guide to the mainland coast, fjords and islands of Norway, including Svalbard and Jan Mayen. The relatively benign sailing in the south makes this a rewarding cruising area for crews who self-sufficient. The far north is not for the faint-hearted, but this book includes the necessary pilotage information to guide your more challenging passage-making as you sail north above the Arctic Circle.
Author Judy Lomax has produced a supplement for this edition which includes corrections and updates to March 2020. All users of the pilot are encouraged to download the new supplement from the link below.
https://rccpf.org.uk/pilots/137/Norway
By: RCCPF/Judy Lomax
Published by Imray (3rd Edition 2016)
EXCLUSIVE BOOK DISCOUNTS FOR NOONSITE USERS
Imray & Adlard Coles Pilot Books can be purchased with an exclusive Noonsite discount of up to 15% by visiting our Imray store if shopping from the UK or Europe.
For North America and the rest of the world visit Bluewater Books & Charts. When ordering through Bluewater be sure to enter the coupon code NOON during checkout to save 10%.