Contents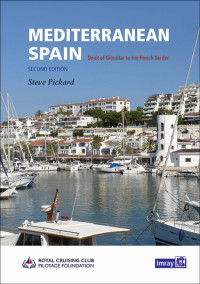 Buy Now
The second edition covers the entire Mediterranean mainland coast of Spain from Gibraltar to the French border.
It covers a varied cruising area that includes the mountain-backed Costas del and Sol and Blanca, the expansive lagoon of the Mar Menor, the low-lying Ebro delta and the rugged Costa Brava. In between are several great cities including Malaga, Valencia, Tarragona and Barcelona, the Catalan capital. The volume opens with Gibraltar and La Línea.
The coverage has been revised with the text updated, new plans added and other plan updates based on the latest information. This edition has been enhanced by the addition of over 100 aerial photographs showing coastline and harbour approaches.
By: RCC/Steve Pickard
Publisher: Imray, 2nd edition, May 2021
ISBN 9781786791832
Also available as a PDF Book
EXCLUSIVE BOOK DISCOUNTS FOR NOONSITE USERS
Imray & Adlard Coles Pilot Books can be purchased with an exclusive Noonsite discount of up to 15% by visiting our Imray store if shopping from the UK or Europe.
For North America and the rest of the world visit Bluewater Books & Charts. When ordering through Bluewater be sure to enter the coupon code NOON during checkout to save 10%.