Contents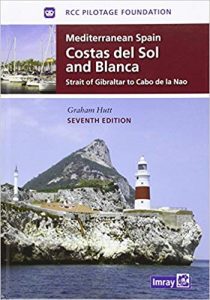 Buy Now
This is an important pilot for yachts coming to and from Northwest Europe and the Atlantic from the Balearic Islands and more distant parts of the Mediterranean.
By RCCPF / Graham Hutt – 7th edition (updates 2016)
Publisher: Imray
Imray DISCOUNTS available (see details and links above)
ISBN: 9781846235269
EXCLUSIVE BOOK DISCOUNTS FOR NOONSITE USERS
Imray & Adlard Coles Pilot Books can be purchased with an exclusive Noonsite discount of up to 15% by visiting our Imray store if shopping from the UK or Europe.
For North America and the rest of the world visit Bluewater Books & Charts. When ordering through Bluewater be sure to enter the coupon code NOON during checkout to save 10%.