Contents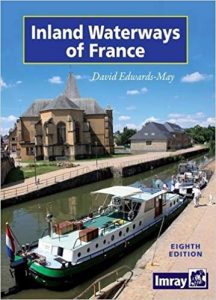 Buy Now
The standard guide to the French canals and navigable rivers includes maps and distance tables for each waterway, giving the user a general view of the geography of each waterway as well as a detailed cockpit reference. The introduction forms a comprehensive general guide to the French waterways, including distances and overall dimensions, formalities, navigation regulations and an up-to-date list of hire operators, making inland waterways of France, not just an unrivalled reference for planning but also an outstanding cruising guide. The new edition is now in full color with redrawn maps and many new photographs.
By David Edwards-May
Published by Imray ( 8th edition 2010)
DISCOUNTS available through Imray and Bluewater Books (see details and links above)
EXCLUSIVE BOOK DISCOUNTS FOR NOONSITE USERS
Imray & Adlard Coles Pilot Books can be purchased with an exclusive Noonsite discount of up to 15% by visiting our Imray store if shopping from the UK or Europe.
For North America and the rest of the world visit Bluewater Books & Charts. When ordering through Bluewater be sure to enter the coupon code NOON during checkout to save 10%.