Contents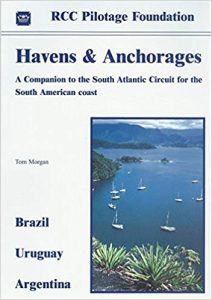 Buy Now
The companion to the South Atlantic Circuit covers the smaller and less well-known havens and anchorages between the major stops of South Africa (Brazil, Uruguay, and Argentina). The pilot includes details of Natal, Brazil to Caleta Horno, Argentina. There are 80 destinations and plans based on Argentinian and Brazilian charts. Country profiles include language (word and phrases), money, travel, food and drink, shopping, etc.
By RCC Pilotage Foundation – (Tom Morgan)
Publisher: RCC Pilot Foundation (1st edn 2002 / Updates 2009 & 2017)
ISBN: 978-0954190040
EXCLUSIVE BOOK DISCOUNTS FOR NOONSITE USERS
Imray & Adlard Coles Pilot Books can be purchased with an exclusive Noonsite discount of up to 15% by visiting our Imray store if shopping from the UK or Europe.
For North America and the rest of the world visit Bluewater Books & Charts. When ordering through Bluewater be sure to enter the coupon code NOON during checkout to save 10%.