Cruising In Seraffyn: Tribute Edition: As Long as it's Fun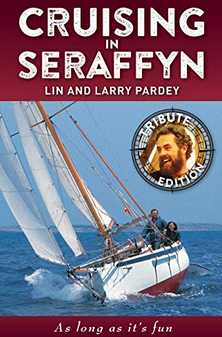 Lin and Larry Pardey are among America's (and the world's) most knowledgeable and recognized cruising sailors. They are known as "America's first couple of cruising." Together, Lin and Larry have sailed over 200,000 miles, including two circumnavigations east to west and west to east aboard self-built, wooden, engine-free cutters under 30 feet.
Authors of a dozen books, countless magazine articles, and co-creators of five cruising documentaries, Lin and Larry have shared their sailing experiences with tens of thousands around the globe prompting many to take up the sport and live the dream of the cruising lifestyle. Their motto has always been, Go simple, go small, go now!
Let Cruising in Seraffyn introduce you to a special world. The first of a four-book series, it is full of the sights, sounds and people of Mexico, Central America, the Caribbean and the islands of the Atlantic Ocean. Read how Lin and Larry built their wooden 24-foot engineless cutter and set off hoping for a few months of true freedom in spite of limited finances. Share their excitement as they learn how to earn as they go and sail ever further afield.
Larry sadly passed away in 2020.
Profits from this tribute edition will go towards supporting and upgrading the Observatory built to honor Larry at Camp Bentzon on Kawau Island in New Zealand (just across from where Lin and Larry built their small boatyard and home base). Over 5000 children each year visit the Camp and they can now get a chance to see and appreciate
the night skies far from the blinding lights of a city.