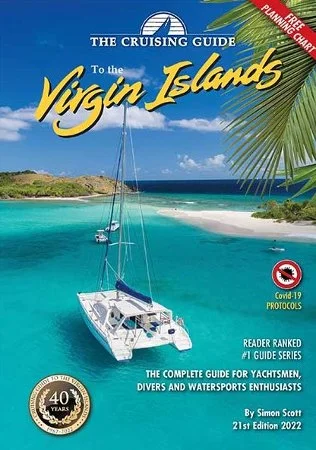 This 2022 edition marks the publication's 40th year of assisting sailors and vacationers cruising the tropical waters of both the British and U.S. Virgin Islands.
The new edition is packed with the latest information on navigation (including key GPS coordinates), customs and immigration regulations, weather, communications, marinas, haul-out facilities, chandleries, dive services, shore-side services, shopping and an indispensable wealth of other valuable information and includes COVID-19 protocols, quarantine anchorages, and testing facilities.
The cruising guide is also filled with detailed charts of the various anchorages, supported with colorful aerial photography in addition to piloting, anchoring and shoreside information. The Island Connections sections provide valuable telephone, email and website information to make finding island businesses, services and restaurants effortless. Additionally, the guide includes a free, fold-out color 27" x 17" planning chart covering the British and U.S. Virgin Islands.
By: Simon Scott
Publisher: Cruising Guide Publications; 21st Edition (2022)
www.cruisingguides.com
ISBN 978-1-7333053-8-9