Contents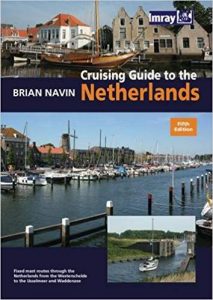 Buy Now
This is regarded as the authoritative companion for anyone cruising the Netherlands using fixed mast routes. The guide is based on popular selected routes which offer an opportunity to visit most of the regions of the Netherlands from the estuary of the Schelde up to the IJsselmeer and Waddensee.
By Brian Navin
Published by Imray (5th edition 2010 / update 2014)
DISCOUNTS available through Imray and Bluewater Books (see details and links above)
EXCLUSIVE BOOK DISCOUNTS FOR NOONSITE USERS
Imray & Adlard Coles Pilot Books can be purchased with an exclusive Noonsite discount of up to 15% by visiting our Imray store if shopping from the UK or Europe.
For North America and the rest of the world visit Bluewater Books & Charts. When ordering through Bluewater be sure to enter the coupon code NOON during checkout to save 10%.