Coastal & Offshore Weather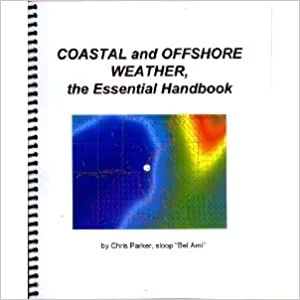 Coastal and Offshore Weather: The Essential Handbook
This book is a useful resource for learning basic weather concepts, efficient ways to acquire weather on your boat at sea and the use of GRIB files in weather forecasting.
If you have never read a book on marine weather, this is the perfect introduction to the subject. Most topics are covered on 1 or 2 pages, so it's easy to digest.
If you have read lots of weather books but didn't completely understand them, then this is the perfect book to give you the foundation to understand other weather books.
Written by Caribbean-based weather and routing guru Chris Parker (of the Caribbean Marine Weather Center). To order go to:
https://www.mwxc.com/order_books.php