Contents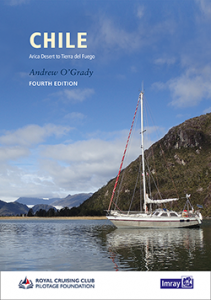 Buy Now
The fully revised fourth edition of this guide covers the coast from Arica in the north to Cape Horn in the south, including Isla de Pascua and Islas Juan Fernandez to the west.
It offers detailed, fully updated sailing directions for almost all the important harbors and anchorages, many of which are documented for the first time. The detailed text is supported by revised color sketch plans throughout and full color photographs, many of which are annotated with additional pilotage information.
For more details, see.
The 4th edition of the Chile pilot is now available from Imray. Download the free Imray Nautical app from the App Store and buy sections of the book by geographical area.
Chile
Arica Desert to Tierra Del Fuego
By Andrew O'Grady
Published by Imray (4th edition 2020)
EXCLUSIVE BOOK DISCOUNTS FOR NOONSITE USERS
Imray & Adlard Coles Pilot Books can be purchased with an exclusive Noonsite discount of up to 15% by visiting our Imray store if shopping from the UK or Europe.
For North America and the rest of the world visit Bluewater Books & Charts. When ordering through Bluewater be sure to enter the coupon code NOON during checkout to save 10%.