Contents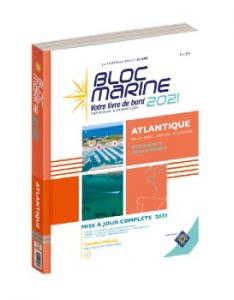 Buy Now
Updated annually, Bloc Marine gives invaluable tidal information for the west coast of France and particularly Brittany, where the tidal streams taken at the wrong point can overwhelm most pleasure boaters. It also includes a logbook, port maps in WGS84, lights log, a complete atlas and outlines mandatory documents to be held on board the boat. Useful photos help with harbor entry and local pilotage.
EXCLUSIVE BOOK DISCOUNTS FOR NOONSITE USERS
Imray & Adlard Coles Pilot Books can be purchased with an exclusive Noonsite discount of up to 15% by visiting our Imray store if shopping from the UK or Europe.
For North America and the rest of the world visit Bluewater Books & Charts. When ordering through Bluewater be sure to enter the coupon code NOON during checkout to save 10%.