Contents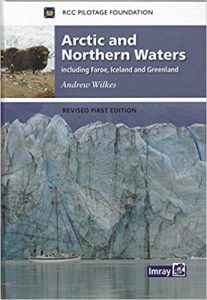 Buy Now
This handbook from the RCC Pilotage Foundation, covers the Northwest and Northeast Passages through the Arctic Ocean as well as Faroe, Iceland and Greenland. Incorporating information collected on a number of voyages over recent years this work is an impressive resource which brings together experience and background data on a region that is not only in the news but increasingly accessible to cruising yachts.
Arctic and Northern Waters contains detailed background information about sailing in the Arctic, including advice about ice, with helpful photographs of various ice conditions and Arctic phenomena. Arctic and Northern Waters is an invaluable planning guide for adventurous yachtsmen and women. Illustrated with beautiful photographs, and packed with further interesting details about Arctic history, Arctic culture and Arctic wildlife
By RCCPF/Andrew Wilkes
Published by: Imray (2020)
Also see this supplement to the book: Victor Wejer's Periplus to Northwest Passage (2021)
EXCLUSIVE BOOK DISCOUNTS FOR NOONSITE USERS
Imray & Adlard Coles Pilot Books can be purchased with an exclusive Noonsite discount of up to 15% by visiting our Imray store if shopping from the UK or Europe.
For North America and the rest of the world visit Bluewater Books & Charts. When ordering through Bluewater be sure to enter the coupon code NOON during checkout to save 10%.