Pacific: All I wish I knew before setting sail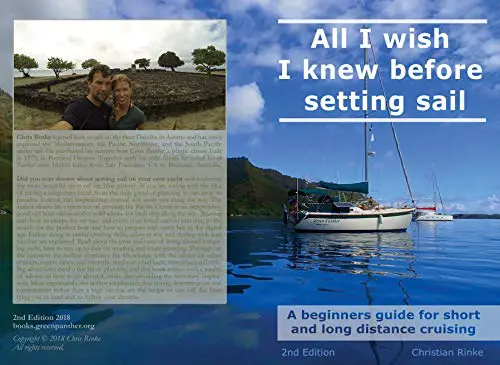 A beginners' guide for short and long-distance cruising in the digital age. The author shares his experience of crossing the Pacific Ocean in an inexpensive, good old boat and provides solid advice for each step along the way.
Author Chris Rinke learned to sail on the river Danube in Austria and has since explored the Mediterranean, the Pacific Northwest, and the South Pacific under sail. He purchased his current boat Green Panther, a classic built in 1973, in Portland Oregon. Together with his wife Alena, he sailed Green Panther over 10,000 miles from San Francisco, CA to Australia.
All I Wish I Knew Before Setting Sail
By Christian Rinke
Published September 2017
Available on Kindle and paperback
Related to following destinations: American Samoa, Australia, Cook Islands, Easter Island, Federated States of Micronesia, Fiji, French Polynesia, Galapagos, Guam, Hawaii, Juan Fernandez Islands, Kiribati, Marshall Islands, Nauru, New Caledonia, New Zealand, Niue, Norfolk Island, Northern Marianas, Palau (Belau), Papua New Guinea, Pitcairn Island, Samoa, Solomon Islands, Tokelau, Tonga, Tuvalu, Vanuatu, Wallis and Futuna