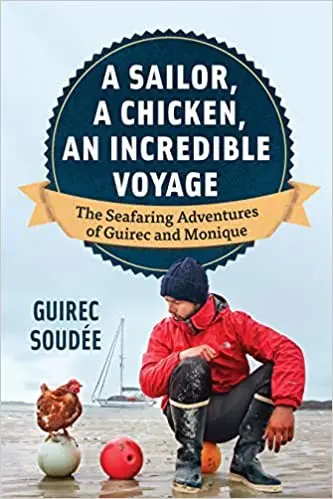 A Sailor, A Chicken, An Incredible Voyage: The Seafaring Adventures of Guirec and Monique
By Guirec Soudée
This inspiring tale of pursuing your dreams despite obstacles follows the author and his intrepid pet hen, Monique, as they travel 45,000 nautical miles.
Guirec never planned to sail around the world with a chicken, but after arriving in the Caribbean, he and Monique headed for Greenland, where they eventually emerged from the pack ice 100 days later.
Their incredible voyage captured the attention of the entire world and sparked a social media frenzy when it occurred. Readers can now discover their thrilling journey from beginning to end in their long-awaited first book.
An article about their amazing journey in Yachting World Magazine can be found here.
Publisher: ‎Greystone Books (October 5, 2021)
ISBN-13:‎ 978-1771647045