Contents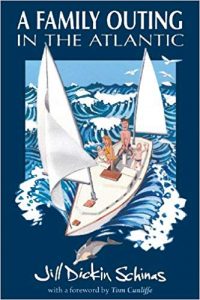 Buy Now
The story of an epic, seven-year-long cruise made by a young family aboard their sailing yacht.
When artist Jill Dickin set off to cross the Atlantic with Nick Schinas, she had no idea that she was embarking on a whole new life. One year later she was married to the skipper – and they were still crossing the Atlantic, but this time in their own boat. Two years after that they crossed the pond again, this time from the Caribbean, and this time with the ship's company enlarged by the addition of a two-year-old son and a babe in arms.
Together the little family headed directly for the Falkland Islands – traveling via the Bahamas, the Azores, Portugal, the Canaries, Cape Verdes, Senegal, Guinea Bissau, Guinea Conakry, Cote d'Ivoire, Ghana, Sao Tome, and Principe, Uruguay, Argentina… and various tenanted and untenanted islets and lumps of rock cast adrift in the Atlantic Ocean.
This book is no mere travelogue. Woven between the tales of ocean storms, shoaling turtles, and West African natives in grass skirts is a vivid picture of an alternative and very independent lifestyle. For a family meandering about in the Atlantic, there are no schools, no supermarkets to pop into when the larder is bare, no newspapers or TV, no rules – and, as often as not, no one to turn to when things go wrong.
Fortunately, however, in the time of their greatest need, the Schinas family happened to be within hailing distance of the Falkland Islands. Their capsize in hurricane-force winds and their rescue by the RAF were widely reported in the yachting press and in the tabloids, and Jill's book closes with her own version of accounts.
There is much here that will be of interest to other yachtsmen and other travelers – the information about West Africa is particularly valuable since very few other yachtsmen have passed this way – and there are heaps which will appeal to other families seeking to turn away from the well-marked main channel and set a course of their own.
Jill Schinas is also the author of "Kids in the Cockpit", a pilot book for safe and happy sailing with children (published by Adlard Coles).
See the Schinas family's website, at www.yachtmollymawk.com.
A Family Outing in the Atlantic
by Jill Dickin Schinas
Foreword by Tom Cunliffe
ISBN 978-0-9560722-1-4
RRP £18.95
EXCLUSIVE BOOK DISCOUNTS FOR NOONSITE USERS
Imray & Adlard Coles Pilot Books can be purchased with an exclusive Noonsite discount of up to 15% by visiting our Imray store if shopping from the UK or Europe.
For North America and the rest of the world visit Bluewater Books & Charts. When ordering through Bluewater be sure to enter the coupon code NOON during checkout to save 10%.