Previous Page
Facts
Jamaica is a beautiful island with hundreds of miles of coastline and an abundance of natural harbours.

It lies in the Caribbean Sea, 340NM north-east of mainland Central America. Its close neighbours are Haiti, to the east, and Cuba, to the north. There are mountains and plateaus to the interior and east of the island.

Kingston is the country's capital and largest city.
Jamaica has a total population of 2.9 million people and is the third largest island in the Caribbean Sea, after Cuba and Hispaniola. The official language is English, but the primary spoken language is an English-based creole called Jamaican Patois (or Patwa).
The official currency in Jamaica is the Jamaican Dollar. All Inclusive resorts and key tourist areas also use US Dollars. For specifics, see General Info.
Jamaica observes Eastern Standard Time (UTC−05:00) all year and does not observe daylight saving time.
For most of the year, the easterly trades blow 20 knots. The southeast corner (Kingston to Portland Bight) has an average 5 knots higher. At night cool mountain air slides down the mountains to create an offshore breeze (Katabatic winds). Tidal variation in Jamaica is about one foot. See Weather below for more details.
Cruising around Jamaica is varied with a multitude of anchorages, small fishing villags plus the inevitable over-developed tourist centers. One hindrance is that you have to check in and out of each port visited and finding a secluded beach with no development is probably the greatest challenge. Three weeks should give you plenty of time to circumnavigate the Island. Anchoring in Jamaica is normally fairly easy as the bottom is usually sand and turtle grass. The marina in Port Antonio, the Montego Bay Yacht Club and the Royal Jamaica Yacht Club in Kingston are popular places with cruisers. All three facilities have very good security.
There are a great number of fish traps set off the coast of Jamaica. They normally extend out to the 100 feet mark and thus along the coast, one should keep a watchful eye. Keep about one mile offshore as you move around the island.
Repair facilities are few and far between. All three docking facilities mentioned above can assist with a number of repair services, and the boatyards at Port Antonio and the Royal Jamaica Yacht Club have haul out facilities. For more details, see Yachting Essentials.
Security
Overall Crime and Safety:
Jamaica's reputation for crime, muggings and theft has kept many cruising boats away, however, crime in Jamaica against tourists is decidedly lower than for the locals. The majority takes place in the ghettos of Kingston and tourists are rarely targeted. With a reasonable level of prudence, cruising Jamaica can be an interesting and exciting experience.
Specific areas of concern:
Places to avoid include, in Kingston: West Kingston Grant's Pen, August Town, Harbour View, Spanish Town. In Montego Bay: Flankers, Barrett Town, Norwood, Glendevon, Rose Heights, Mount Salem. Beware of pickpockets.

Maritime Issues:
It is recommended, for security reasons, to anchor only in well-known tourist harbours, or anchorages where there is an absence of inner-city poor communities.
Based on reports to Noonsite from cruisers, petty theft from yachts is on the rise in the Caribbean in general. Cruisers should take basic safety precautions and use common sense when leaving the boat or going ashore at night. Dinghy thieves operate throughout the Caribbean and the best advice is to place your dinghy on deck and chain it overnight.
The Caribbean Safety and Security Net provide information by anchorage or by the island. If you experience a boarding, robbery or attack on your yacht or have information about a yachting-related security incident, go to the CSSN homepage and click on the "Report an Incident" icon.
Reported Incidents:
Be sure to check related security reports for Jamaica.
Last updated: October 2021
Weather
The climate is tropical and humid, and Jamaica lies in the hurricane zone. The hurricane season lasts from June to November.
The winds of Jamaica normally blow from the East and are called the Trade Winds. However, there are many variations. Early in the trade wind season, from December through April, Jamaica gets wind from "Northers" that come down from Canada and the United States. These northerlies usually blow for 1 to 3 days and can vary in intensity from mild to quite strong. When a northerly is blowing, the north coast of Jamaica becomes restless and one must work to find a secure anchorage. Aside from Port Antonio in the SE corner and Montego Bay towards the SW corner of the island, there are very few harbors in between that are suitable for a hard northerly blow on the north coast, with the exception of Bogue Lagoon which is a true hurricane hole.
The Trade Winds blow mostly from due east, but on the north coast veer to the north and the winds tend NE on that side. On the south side, the winds veer to the south and the wind is generally south of east on that side. Late in the trade wind season, as you approach summer, the trade winds become SE, and the north shore becomes more protected as it is more in the lee at that time of the year.
The south coast is more secure than the north coast when northerlies blow; but less secure when the rare, but possible, westerly blows through.
Below is a list of harbours on the north coast that can provide refuge when the weather is not good.
Port Antonio – Excellent
Montego Bay – Fair
Bogue Lagoon – Excellent
Ocho Rios – Fair
St. Ann's Bay- Good behind reef
Discovery Bay- Good/East side of bay
Oracabessa – Fair
Falmouth – Uncertain
Local Forecasts:
For links to free global weather information, forecast services and extreme weather information see the Noonsite Weather Page

Related Businesses
Caribbean NW Net

NW Caribbean SSB net will start on Thursday 3rd February 2022 on 6209Mhz starting at 08:30 Belize and Honduras time, 14:30 GMT, which does not... Read More
Courtesy Flag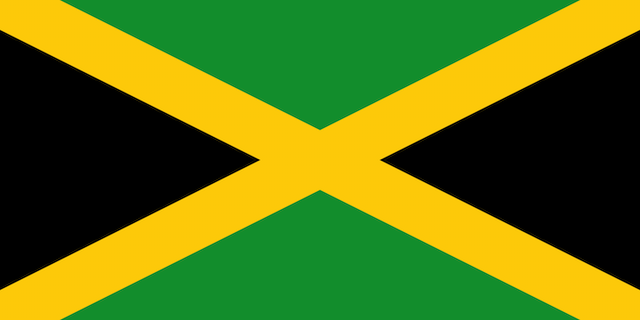 YachtFlags.com offers a discount to Noonsite members.
YachtFlags.com provides high quality courtesy flags that are manufactured in durable Knitted Polyester fabric. Knitted so that the fabric itself does not deteriorate in the constant movement that marine flags are usually exposed to, and polyester so that the flag does not weaken in the strong UV-light usually found in the main sailing areas of the world.
Use the coupon code NOONSITE_5A2B when checking out to get 10% off today.
Buy Now On YachtFlags.com
Places