Contents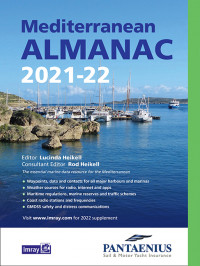 Buy Now
This is a very useful almanac covering all of the countries bordering the Mediterranean as well as the Azores, Madeira and the Canary Islands. It is in a very similar format to the well-known Reed Almanac which covers the European coast from Denmark to Gibraltar.
Formalities for each country, as well as the European Union & Schengen regulations, communications of all types, weather and a large section on navigation lights are all included. Tide data includes the tide table for Gibraltar, tidal stream atlas for Straits of Gibraltar and the tidal differences for various zones around the Med.  Useful route diagrams and distance tables round off this section of the Almanac.
The port information section includes clear, coloured charts of many places (but not all), details of access, berthing, facilities and contact data.
If cruising several countries around the Mediterranean, this useful almanac would probably be sufficient and eliminate the need to carry a different one for each country.
By Rod and Lucinda Heikell (12th Edition)
Published by Imray
DISCOUNTS available through Imray and Bluewater Books (see details and links above)
EXCLUSIVE BOOK DISCOUNTS FOR NOONSITE USERS
Imray & Adlard Coles Pilot Books can be purchased with an exclusive Noonsite discount of up to 15% by visiting our Imray store if shopping from the UK or Europe.
For North America and the rest of the world visit Bluewater Books & Charts. When ordering through Bluewater be sure to enter the coupon code NOON during checkout to save 10%.