Wintering in Finike, SE Turkey: Cruisers Report
Previous Page
Report Content
Posted 26 March 2014
From David Elliott of SY Scarlett
We spent the northern winter of 2012 and 2013 at Marina di Ragusa in Southern Sicily. This was and is a very good marina for the long-term cruiser or live-aboard sailor to spend the winter months. During the winter there were a large number of cruisers who spoke of and planned to sail to Turkey in the coming summer. It was agreed that we should, as a group, research marinas in Turkey for the following winter.
We were looking for all the normal things, good all-around shelter, reasonable rates, haul-out facilities, a safe and pleasant environment/town and the best weather possible. In short, we wanted it all. We contacted a dozen marinas in south-east Turkey from Bodrum through to Alanya. Rates were compared and references checked. The outcome was that thirty-four yachts chose to contact and secure a winter berth at Setur Marina Finike.
Setur Marina is situated in front of the town of Finike in the Antalya region of Turkey, about a four-hour drive south and east of the large yachting centre of Marmaris. The international airport at Antalya, a city of 1.5 million people, is a two-hour drive away to the east of Finike. The town boasts 12,000 residents and is a working agricultural town, largely unaffected by tourism. Unlike many coastal towns, Finike continues to run throughout the winter. Prices for all services, food, restaurants and supplies are very reasonable, certainly better than the tourist centres in Turkey. I believe the large Saturday street market has some of the very best products in the world. The fruit and vegetables are superb, with a great range, and compared to other European countries at almost give away prices. Visiting these markets each week is a true joy. The locals are a very friendly lot, who accept the yachties as a valuable addition to their lives, with a lot of enjoyment being had by both sides as they attempt to speak either broken English or Turkish during each transaction.
Amazingly with the tall snow-capped mountains only a few miles inland, there was very little katabatic wind effect. There were often cool, light, northerly breezes off the hills in the mornings, but these rarely lasted past mid-morning. It seems that Finike has its own micro-climate; the winter was mild, very dry and calm. There was not one single night in the entire winter when the wind blew over thirty knots. Almost every day was calm, so much so that we stopped looking at weather forecasts relating to wind strength. Nights were cool in December and January, often dropping to single figures, but the days were generally around the low to mid-teens. By March the weather was in the mid 20's. All in all, much better weather than Bodrum or Marmaris which both have cooler, wetter winters.
The wintering yachts and their crews are a diverse group with over 200 yachts and motor boats berthed. There is a large group who have wintered for several seasons as well as those on their first visit. There are large French, German and Scandinavian contingents as well as the ever-present Brits. These are supplemented by American, Canadian, Australian, New Zealand, Dutch, Belgian and local boats. The overall effect of the marina is that of a busy place with various social and educational activities in progress almost every day. And when life in the marina gets a bit too familiar there is always the next door "Rose Garden" bar and cafe which provides many live sports events on the large screen as well as reasonably priced beer and wines, the perfect place for a Friday Happy Hour.
There are good boat repair and supply services available in the yard, particularly painting, teak deck replacement, (beautiful and excellent value) and quality stainless steel work. However, there have been a number of bad reports concerning the engine/mechanical repair service, where the work is thought to be overpriced, over-serviced and poor in the outcome. Using an outside contractor incurs additional fees to the Technical Services department which need to be factored into your cost. However, cruisers are allowed to live on their boats in the yard and perform their own maintenance which is an advantage is keeping costs down.
The marina itself is well run by a diligent team led by the ever helpful Ziya Dal. His team will snap into action at a moment's notice to try and solve any problem. The marina has two cruisers lounges, one with a very large wood-fired stove/heater (the wood and charcoal being supplied by the marina for the Sunday BBQ). The shower and toilet blocks are large, modern with plenty of hot water, always kept very clean and are centrally located to all the pontoons. The one drawback is there is no self-service laundry facility with coin-operated machines. There is a fairly inefficient washing service which tends to be more expensive than most cruisers would like. The free Wifi service supplied by the marina had patchy reception, was unreliable and slow at peak times. Whilst Setur management is promising to have this improved over the season, the answer for us was to purchase a reasonably priced, local internet dongle.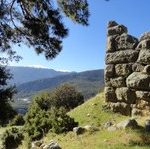 Ziya organizes and runs tours to other parts of Turkey several times during the winter, either by bus or air. These tours are really well run, seem to be very good value and have had enthusiastic reviews. It is hard to exaggerate the generosity of time and effort Ziya puts into making a life for the cruiser as good as it possibly can be. Truly nothing seems to be too much trouble.
As for costs; a six-month contract for our 42 foot Jeanneau was 1440 Euros which included tax, free water, wifi and electricity. Haul out fees were about 700 Euros including wash down (with the very large crane capable of handling catamarans to 7 meters in the beam). Whilst anyone wintering in Turkey will require a resident permit which incurs additional costs, this is more than compensated by the attractive daily cost of living in Turkey, and the medical and tourism discounts that such a permit allows. For those thinking of cruising Turkey, consider wintering at Setur Marina Finike and get the 2014 marina offers by contacting Barbaros, who speaks excellent English, at [email protected]
As a footnote, any cruisers with pets visiting Turkey should be aware that a number of local councils set poison baits or even fire poison darts at dogs. This is a dangerous country for a much-loved pooch. Unfortunately, we had a first-hand experience of this in the port of Kas.
David Elliott
SY Scarlett
Posted 15 March 2013
From Bo & Vivi of SY Lorna
Finike Marina has published their Wintering Campaign for 2013 – 2014.
The price is slightly up but not much. Please note: Power and water is included. There is free WiFi, but for best results use an external (deck) antenna.
The text in their winter package is a little unclear, so we asked in the marina office:
The winter contract starts on September 1, 2013, to November 15, 2013, and goes on for the period chosen. So November 15, 2013, is the last date from which you can count 180 or 240 days (the package offers "Pay 90 Days – Stay 180 Days / Pay 110 Days – Stay 240 Days").
There is no need to be in the marina on the 15th of November, but most boats like to stop cruising in October.
Last autumn many boats arrived and signed up for the winter, so I guess the clause in the winter package  "signed and fully paid by May 30, 2013" – is not enforced unless the marina is full.
There are many English, German, Scandinavian and some French cruisers spending the winter in Finike Marina. There is a clubhouse, the Porthole, with all kinds of activities organized by the cruisers. Walks and excursions are also organized as well as shopping trips to Antalya.
Bo & Vivi Altheden
SY Lorna
User Comments
You must register first or be logged-in to leave a comment.
No comments for this post.