Tanzania Cruising Notes
Previous Page
Report Intro
A very interesting report which provides updates to Delwyn McPhun's East African Pilot.
Last Update - February 20, 2017
Report Content
I highly recommend Delwyn McPhun's East African Pilot, which is invaluable and is pretty accurate as far as anchorages etc. are concerned. My notes must be seen as elaborating and updating the information he provides. Some of the anchorages may differ where we have found his information to be slightly out.
Introduction
With the exception of the magnificent game viewing (at a price), there is not much to rave about as far as cruising in Kenya is concerned. The coastline is pretty hostile with current and swell, due to being out of the lee of Madagascar, and there are not many anchorages. Tanzania, on the other hand, has a lot to offer over and above the game parks. Zanzibar and the Mafia channel south of Dar es Salaam are "must see" places.
General
Despite the general perception that Africa is chaotic, Tanzania and Kenya have reached a pretty stable point in their history. This despite crime – which is pretty endemic the world over. The prudent traveller knows how to deal with this and takes the necessary precautions. This area is no less dangerous than most others, providing the traveller stays away from the northern sections of Kenya where Islamist groups are still active (although the activity there has also diminished, it just needs another tourist abduction incident to set it all off again).
Politically both countries have matured in their democracy, despite regular upheavals in Kenya where the election results are always disputed, but this sort of thing is usually limited to Nairobi.
During 18 months in Tanzania we never experienced any overt corruption and demands for money for dubious documentation/visas etc. and they in fact prominently display a poster warning you not to tolerate any requests for unwarranted cash. The poster has a toll free number to call in the event of this happening. We found the officials courteous and reliable, although everything runs on "Africa time" so one has to be patient when officials decide to go to lunch or tea.
When one expects a typical 3rd world attitude, it is quite refreshing to be surprised by the friendly and pleasant welcome one receives wherever you go. Our 18 months has made us positive ambassadors for these two countries and once you get used to the Africa way of doing things, a visit is highly recommended.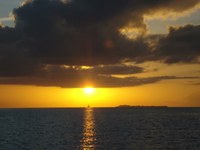 Weather
The weather is divided into 2 seasons each with their own peculiarities.
SE Monsoon
April to end of October.
This period is dominated by the SE trade winds which blow consistently in the 10-15kt range during the day but die down at sunset. A rain shower of 30 min duration at 1600 hrs is pretty normal and makes for pleasant showers on the foredeck.
NE Monsoon
November to end of March.
This period is dominated by the "Kaskazi" NE trade wind which makes most anchorages untenable and alternatives have to be found. Unlike the SE winds, it does not slack off much overnight and is pretty consistent at 15-25kts. In addition, it very seldom brings rain.
Current
The equatorial current, coming all the way from Australia, clips the top of Madagascar and continues westward where it encounters the African coastline at Cabo Delgado /Mtwara – the border between Tanzania and Mozambique. Here it splits and the north-flowing section hugs the coast all the way along the Tanzanian and Kenyan coastline and runs at 1.5-3 knots. This results in all the safe anchorages off the islands being on the NW/NE sides, making anchoring difficult and at times impossible during the NE monsoon (November –March). Even anchorages at Dar es Salaam and Tanga become bumpy due to swelling coming in around the headlands.
Cruising Season
In theory, this is all year round, but prime time is April to end of September. During the NE trades it is still pretty good, but whichever way you are going you either have the current with you and the wind against you or the current against you and the wind with you. Pick your poison.
Sailing north in April from Mtwara (southern border and a good place to start), you have the current with you and the wind behind you, which is as good as it gets. The maximum wind speed we experienced was 17 knots in a small squall!  All the anchorages are good holding and well protected from the SE.
Sailing south, the best time would be from the end of November to March, with the NE winds behind you but with the current against you. With the consistent NE, wind anchorages become a problem and you have to plan your passages carefully to get to the next stopover.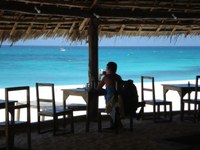 Timing
In a perfect world one would arrive in Mtwara mid-April and cruise up to Dar es Salaam and Tanga, detouring via Zanzibar and Pemba en-route either way. Visits to the game parks are best done from Tanga as Arusha – the centre for game viewing – is closer and a short bus trip away. Tanga is also a lot safer to leave your yacht, with a local security guard. Having done all the tourist things you should look to heading south by the end of October at the latest and get the benefit of the NE trade setting in to get down to Mtwara to head south down the coast to South Africa.
Tropical Cyclones/Storms
Tanzania is outside the normal belt and the Mozambique channel is also exempt from this danger up to mid-December. The danger of cyclones in the Mozambique channel this time of year does not result from cyclones coming west from Chagos but is as a result of low-pressure systems developing around Mayotte and intensifying as they move south down the channel. This however very seldom occurs before mid-December /January through to March.
Extended Stays
If you plan on an extended stay exceeding 5-6 months, the conundrum of safety during the Kaskazi (NE trade) is the major issue. Many cruisers have headed north to Kenya and particularly Kilifi Creek for this period, but still one has to plan to get back south before the Kaskazi dies down. If you don't, you face SE wind with 2-3 knots of current against you to get back south. Some yachties have left their yachts in Kalifi for a trip home and for this purpose it is pretty safe as security can be arranged at the yacht club for the duration. It still implies you getting back in time to catch the tail end of the Kaskazi to get south when you return.
Coming from the east (Thailand/Malaysia) poses the conundrum of getting to Tanzania with enough time to do the things you want to. Most yachties only arrive in Madagascar June/July making things a bit tight, but it's been done. This would entail a direct route via Mayotte (not to be missed) to Dar and up to Tanga for the game parks, with enough time to get south by the end of October/November.
Another alternative is to cut out Madagascar and head directly to Tanzania from Chagos/Seychelles/Maldives/Sri Lanka, arriving June/July and heading south into the Mozambique channel at the end of October/November. This alternative cuts out Madagascar which is a pity, as having travelled halfway around the world you miss one of the best-kept secrets for cruising, diving etc.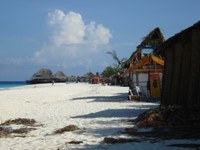 Provisions
Tanga is the centre for most of the fresh vegetables for the country and the quality is excellent and the prices less than half you would expect. Further south the quality starts suffering due to transport but is still way above expectation. Fuel/gas etc. are freely available and limited spares in the rural areas, but you can get anything you want in Dar. Alcohol and tobacco are cheap except for imports. The fresh produce markets are a feast.
Game viewing
Resist the temptation to book your viewing in the bigger centres of Dar and Tanga, as sharp operators will rip you off despite their assurances. Past experience has shown the best way is to travel to Arusha by bus and book/arrange with operators on site, as this cuts out all the middlemen. Accommodation can be had with the local Catholic Mission in Arusha, which is cheap even for African standards.
Formalities
These are pretty standard and not a problem. Immigration and Customs are as you would expect.
A peculiarity is the Customs CM23 form (Transire) which has to be obtained for movements between ports and are meticulously checked. This amounts to permission to move. The normal "scam" is to refer you to an agent to complete the documentation in triplicate, which costs anything from 5000Tanz Shillings (+- $2) per vessel. This can be overcome by having your own forms printed (with typos included) and presenting them to Customs without having to pay the agent. This is only required for movement between Port of Entry, so if you are going from say Dar to Tanga and stopping en-route, you declare your next destination as Tanga.
Note: Tanzania as you possibly know is the product of the amalgamation of Tanganyika, Zanzibar and Pemba Islands. As Zanzibar and Pemba were not too happy with this loss of autonomy, they still see themselves as independent and any travel from the mainland to these two islands entails full immigration and customs clearance on arrival. As long as you have a valid visa and your Transire form, this is no problem, just a hassle and waste of time.
Three-month visas cost $50 per person. As a rule, visa can be extended by 1 month on request – check with immigration on the latest ruling. If you need to check out and visit another country in order to get a further 3 months, get to Tanga in time and run up to Shimoni in Kenya for a couple of days. Then return for a further 3 months to Tanzania. Alternatively, take a bus from Tanga to the Kenyan border after clearing out and clear right back in and hop on the next bus back to Tanga. It's been done so many times this is nothing new to the officials.
Entry Ports
Mtwara, Lindi, Kilindoni (MafiaIsland), Dar es Salaam, Pangani, Tanga, Zanzibar Mkoani (Pemba Island)
Apart from Dar, Tanga and Zanzibar, all charts must be viewed with scepticism and cross-checked with Google Earth for accuracy. Most anchorages, entries and channels quoted have been checked in situ, but the prudent sailor will still rely on visual navigation.
Night sailing
In the Mafia channel from Kilwa Masoko north, sailing at night is a suicide due to shallows, reefs and sandbars, and you attempt this at your peril.
North of Dar, and including Zanzibar and the coast all the way to Shimoni, the same applies. In addition, there are hundreds of fishing vessels setting nets at night, which usually are not buoyed and if they are, they are not lit. Any sailor who has passed through the Malacca straights needs no reminder of the hazards. Note that dynamite fishing is still rife, so don't be too surprised about the loud "Booms" at night.
Anchorages (from the southern border – northwards)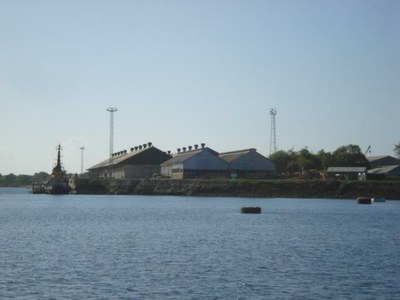 Mtwara: 10 12,9976S  40 11,2691E
Narrow and convoluted entry – daylight only as buoys are either non-existent or not lit.  NE wind anchorage:  10 15,459S  40 11,940E
SE wind anchorage:   10 15,212S  40 13,615E
Do not anchor off the main cargo dock, rather take the informal ferry across from the sand spit over to the mainland. Not recommended for a prolonged stay, better to go to Mikindani.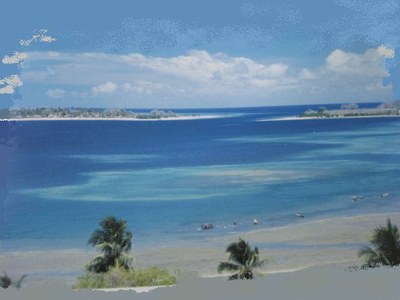 Mikindani: 10 14,7773S  40 08,3130E
From Wpt above head 216T – visual navigation vital – daylight only!
NE wind anchorage: 10 15,414S  40 07,248E
SE wind anchorage: 10 16,258S  40 08,000E
This SE anchorage is also good in NE winds and more convenient for getting into Mtwara. From the entrance stay close to the shore on port and follow the channel over one shallow patch +-3m on Lat, so high tide best time. Leave the dinghy at the "Yacht club?" and pick up a taxi on the main road. Locals in the SE corner will come and trade for calamari (squid) etc. Very well protected anchorage and flat calm.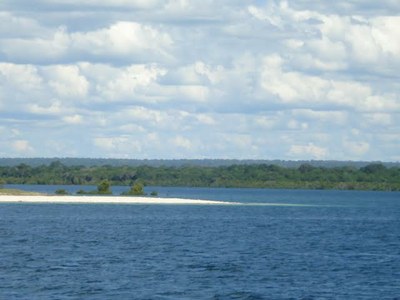 Sudi River: 10 06,540S  39 59,603E
Beware Nymphe Shoal at entrance 10 06,604S  39 59,603E and a shallow sand bar/patch at the village on the port side of the entrance. Visual navigation is vital.
Anchorage NE/SE winds:  10 09,012S  39 58,312E
Nothing to recommend this anchorage except as an overnight anchorage if you can't make Mtwara before dark on your way south.
Lindi: 09 58,055S  39 44,919E
Not recommended except in an emergency – and even then try and find another alternative. Crime here is a serious problem and the entrance is very tidal. In addition, the marker buoys are all wrong with no pattern as far as port and starboard are concerned. Only enter in daylight and don't trust anything.
Mchinga Bay
Anchorage:  09 44,437S  39 43,843E
Surprisingly, and counter-intuitively, very good in both NE and SE winds.
Mzungu Bay
Anchorage SE winds only: 09 29,096S  39 40,428E
Very well protected from the SE by a reef extending from the mainland in an NE direction. Tuck in behind the reef.
Kilwa Masoko
Anchorage NE winds only: 08 55,845S  39 31,235E
This is a great spot and yachts receive a great welcome from the Kilwa Ruins Lodge due west of the anchorage. There are some ruins on the south bank said to date back to the Chinese visits to Africa pre-colonization days. Excellent fishing off Rukyira Reef – contact the lodge for details. This is a great place to hang out for a couple of days – highly recommended.
Note: Going north from here you are entering what is known as the Mafia Channel, with reefs/sandbars and islands all over the place – so navigate cautiously and in daylight. Fishing en-route is mind blowing – so be prepared!
Tsonga Tsonga
NE wind anchorage: 08 30,602S  39 28,696E
SE wind anchorage: 08 30,492S  39 28,628E
Approaching this anchorage it looks like paradise, but sadly has been destroyed by population supporting Gas Platforms on the western side. Still – it's a pleasant stopover.
Boydu Island
NE wind anchorage: 07 56,805S  39 30,623E
Holding here is bad due to the scouring effect of the north-flowing current. It is adequate for an overnight stay only, which is a pity as this is a jewel with very little population.
SE wind anchorage: 07 56,471S  39 30,273E
Good holding on the sand patch and very well protected from SE winds and current, which screams around the western corner, but misses the anchorage.
Kilindoni-Mafia Island: 07 54,9274S 39 39,4190E
Avoid this island at all cost as I am sure the name Mafia was inspired by the organization with that name. The anchorage is +-1nm offshore and security, even during daylight, is dicey as there are lots of prawn fisherman passing by coming from the prawn banks off the Rovuma River mouth.
The up-market lodge on the SE corner of Mafia Island (Chole Bay) does not welcome yachties and despite the area being pristine for diving and snorkelling, it is debatable whether it is worth the effort. There are plenty of uninhabited reefs to explore without the hassle.
Njororo Island
NE/SE wind anchorage:  07 37,168S  39 40,773E
This anchorage is nothing spectacular but alright for an overnight stopover. There is some local fisherman living on the island. We had no problems with them.
Koma Island
NE/SE wind anchorage:  07 32,360S  39 23,074E
Again, not spectacular and a bit too close to the mainland so there is a fairly large population. However, a good stopover going either north or south.
Sukuti Reef
SE wind anchorage only: 07 15,163S  39 30,080E
This is a pretty unique place as on high tide you can only see the mangrove trees and on low tide, you can just make out the sand bars. Excellent protection in SE winds.
Bujuni Bay
NE wind anchorage only: 07 08,6103S  39 32,6762E
Overnight only.
Ras Ndegi
SE wind anchorage only:  06 51,939S  39 28,184E
Overnight only.
Inner Sinda Island
SE wind anchorage only: 06 49,654S  39 23,458E
Beautiful island close to Dar and as a result very popular over the weekend when locals come out for the day. An excellent, cheap restaurant operates on the beach and worth a visit. Overnighting no problem here, but being close to the mainland theft is a problem. Do not leave your outboard motor on your dinghy!!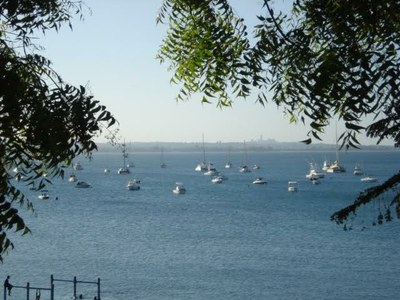 Dar es Salaam Yacht Club: 06 44,625S  39 16,357E
Customs get upset if you go directly to the yacht club before checking into Immigration and Customs in Dar. In addition, the club will not accept you as a temporary member (first 2 weeks free) unless you submit your CM23 (Transire) from Dar customs authorizing your move to the yacht club.
One solution (to avoid going into Dar for clearance) is to report to the administration office at the club and advise them that you have an engine problem and could not sail into Dar Harbour. Hop into a taxi to town and do the necessary clearance using the same excuse. They know it's a lie, but they've heard it all before so no problem.
On your way back to the club stop at the Slipway Shopping complex and deposit+-$50 into the Dar Yacht Club Account at Barclays Bank (the bank officials know the details off by heart) and present that to the clubs admin office, which frees up your bar account so you can enjoy a cold local brew.
After 2 weeks you have to pay for temporary membership and this gets quite expensive. We left after 2 weeks and went north via Zanzibar and Pemba to Tanga for the new year and came back with the NE wind in the new year and got another 2 weeks free!.
Dar YC is rightly rated as the top yacht club in Southern Africa and is slick and well run with a great social life, due to all the Ex-Pats living here. Free WiFi. It is the social hub of Dar's upper class. Just watch your bar bill, as unless you check it with the admin office (always sign your chit) it has happened that someone else drinks on your account. The club has a motorized dinghy service which picks you up at your yacht and delivers you back at no charge. Call VHF ch09.
Once your initial 2 weeks has run out, you, in theory, can stay on the anchorage, but you will have a problem gaining access to the club at the security gate. Simply relocate to the southern end of the anchorage and commute by dinghy to the Slipway Complex +-.5km further into the bay.
Weekend excursions
A number of local yachties spend the weekends anchored at Bongoya Island (6 41,661S  39 15,407E), Mbudja Island (6 39,457S 39 14,704E) and Fungus Yasin (6 35,669S  39 13,462E) depending on the wind direction. It's a pleasant break from the hectic club and pretty quiet.
The locals will have a long list of things to do and see, but do not miss a visit to the fish market at the harbour entrance for a mind-blowing African fish experience (6 49,111S  39 17,955E).
Ras Mbegani (Lazy lagoon)
Entrance:  06 27,821S  38 58,400E
Northern anchorage:  06 27,821S  39 00,123E
Southern Anchorage:   06 28,394S  38 58,550E
This is an extremely well sheltered and safe anchorage for a long term stay with access by taxi to the northern suburbs of Dar for provisions etc. Entry is tricky as you need to approach from due east and close into the shore (+- 50-100m) which is the deepest part. Only attempt this entry 1-2 hrs before high tide with good visibility (before 1500hrs local time).  As you pass the point of the land, pass around the outside of the reef which extends due west for quite a distance before turning in. The charts are useless, so consult Google Earth to get your bearings. The effort is worthwhile.
Water is available from the prawn packaging plant and College for Shipwrights. Dolfin Bush Pub is a blast (en route to the main road). You catch a motorcycle taxi to the main road from the security gate at the entrance to the housing section of the complex.
Pangani River: 05 26,2187S  38 59,5935E
This anchorage should only be considered if no other option is available. The entrance is very narrow and a maximum of 2m at Lat, so enter only at high tide. Only to be considered in NE monsoon. Maziwi Island, close by, is a better bet in the SE monsoon.
Maziwi Island
SE wind anchorage: 05 30,200S  39 03,706E
A barren sand spit with good shelter and good holding in SE winds.
Tanga
Approach as per the latest chart and for the adventurous, the southern entrance between Niule Reef and Yambe Island.
Call Tanga signals on VHF Ch 12/16 as you approach the headland at the entrance to the bay.
Anchor in front of the yacht club at 05 03,477S  39 07,136E
This is our personal favourite spot – more relaxed than Dar and more yachty friendly (not to mention cheaper). The setting is great and is better protected from swell during the NE monsoon. The club is pretty active, but not as hectic as Dar and you actually get to meet local members. Again, no temporary membership until your Transire has been acquired. They will extend you some credit for a cold beverage until you pay a deposit for your bar account. There is no dinghy service at this club, but they have a well-organised dinghy dock which means wet feet, but that's the worst of it. Sundowners on the deck are as good as it gets.
The town is a short taxi ride with 2 fresh produce markets and the infamous, not to be missed, Roadkill Restaurant. Transport to Arusha can be arranged at the main fresh produce market – the main bus and taxi terminus. Xmas and New Year is one long party and gets extremely festive.
There are 2 swimming clubs just south of the anchorage, so don't be surprised to hear voices from anywhere when swimmers hang onto your anchor chain for rest and chat. Resist the temptation to allow them on board as you will have to physically turn them off later.
Take a walk to Amna's restaurant on the east side of the headland (05 03,347S  39 07,468E) for the speciality Chips Mai-Ai and a cold Kili, weekends only.
Kwale Bay: 04 59,786S  39 09,440E
Good anchorage in NE and SE winds and a popular day-sail destination.
Manza Bay: 04 56,909S  39 10,190E
As for Kwale Bay above.
Shimoni/Wasin Island (Kenya)
NE wind anchorage:  04 38,938S  39 22,737E
SE wind anchorage:  04 39,286S  39 22,002E
Customs and Immigration:  04 38,854S  39 22,940E
We advised the authorities that our sole intention was to get an extension on our Tanzania visa and they cleared us in and out without payment.
Very interesting British colonial sites/ruins scattered around.
Shimoni is the centre for game fishing in the south of Kenya due to it's proximity to the Pemba channel and has a number of up-market fishing lodges with up-market prices to match.
Pemba Island
Before considering venturing into the "jaws of the lion", read the account on Noonsite of the couple in 2009 who were "apprehended" and what amounted to "held for ransom" as they refused to pay the exorbitant fees demanded by the officials here (eventually settled for +-$240).
Unpleasant Reception at Pemba, Tanzania 
We happened to be in Tanga at the time and the account submitted to Noonsite is pretty mild to what actually played out and suggest you give it a miss, as beyond the outer reef fringing the island there is nothing worth getting into trouble for. Those who are determined to live on the edge can contact me via Noonsite and I will give them our routing and anchorages. We spent 4 nights on anchor at 4 different spots and our saving grace was that we moved every day and the "thieves" kept on missing us. Not to be repeated!
The only spot worth a visit at a cost of +-$10 per person is Msali Island (05 14,334S  39 36,337E) which is right on the western edge, so if you have problems you can ditch and run into deep water. We have since heard that a village on the east coast of the main island is the centre for Voodoo in the world and that the Haitians etc. are regular visitors to come and touch upon their "skills" – an urban legend? Who knows, but it would explain the beating drums you hear the whole night whilst on the anchor. Creepy!
Unguja Island/Zanzibar (re-named by some as "Stinkybar" – you will understand why when you are there!)
The obvious attraction is Stone Town and if you are into history this is the place to be. You can really knock yourself out on the Arabic/British history slave trade and sultan's palaces etc. and will need at least 3 days to do it justice. Most of the historical buildings are pretty run down, but still worth it. A good guide book is essential (Lonely Planet etc.)
Compulsory is a visit to Mercury's Pub on the beach in the centre of town, just up the road from Immigration and the main ferry terminal – a tribute to the Late Freddy and Queen. It is pricey, but worth seeing as it is an "institution". You haven't been to Zanzibar if you missed Mercury's! Similarly, a spice tour is worth it, which is best arranged via Mtoni Marine (see below).
Recommended Zanzibar anchorages:
During SE monsoon you can literally anchor anywhere on the west coast as it is so protected and calm.
Mtoni Marine
SE winds anchorage only: 06 07,793S  3912,759E
There is security on the beach, so dinghies are technically safe, however, we would advise rowing over and leave the outboard on board. You can arrange a spice tour at reception and they have a pleasant restaurant and pub with a great view of your yacht. Pick up a taxi outside the gate to get into Stone Town.
NE anchorage (overnight when visiting Stone Town in NE monsoon-move to Mtoni Marine during the day) 6 07,8334S  39 11,9789E
Behind a reef giving good protection from swell coming down the coast.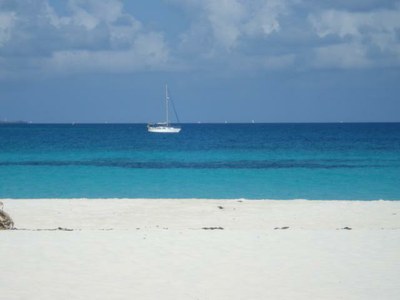 Ras Nungwi/Kendwa
SE winds anchorage only:  05 44,111S  39 17,210E
Not to be missed as the section from Ras Nungwi to Kendwa is very well sheltered in SE winds, but less so and very rolly in NE winds. It is compulsory to gather at Choles Bar (the elevated Motorcycle in the coconut trees) on the beach at sundown. Plenty of up-market luxury lodges and hotels stretching all the way to Kendwa if you are in the mood to dine stylishly. This is where the "well-heeled" hang out.
Inner Pass
NE winds anchorage: 06 17,100S  39 14,933E
Well protected from NE winds and close to Kwale Island for a day trip to the sand bar at 06 21,925S  39 17,089E, which is very popular with day trippers from lodges and hotels – so get there early and stake your claim if you are into noisy tourists.
Kwale Bay: 06 18,8300S   39 19,5063E
For all practical purposes a "no go zone" due to military and naval bases in the bay and they will come and harass you if you anchor in this area. Not worth it unless you go all the way to the western shoreline across the bay.
Leaving Tanzania
NE Monsoon – November to March
If you have done the Mafia channel and other stops down the coast, the best option is to leave Latham Island (06 54,1073S / 39 56,6675E) to starboard from Dar and get 70-100nm offshore and out of the current. Between November and end of December, a stopover at Mayotte en-route south is a pleasant break before heading south down the Mozambique channel. Be vigilant about the possible low-pressure systems that develop around Mayotte (mid-December onwards) and move southwards down the channel which develops into just short of cyclone strength (45-50kts at epicentre). A tried and tested tactic is to get on the back of such a system and ride the W/NW winds all the way down the channel behind it until it swings SE at Tulear (SW tip of Madagascar).
Once past Cabo Delgado, where the Equatorial current splits, get close in and ride the current south with predominantly NE/NW winds behind you.
If you missed Madagascar coming west, get to Mtwara by the end of March and keep an eye on cyclone activity to the east of Mada. Then, before the SE trade sets in, hop over to Mayotte and on to Mada for 2-3 months before heading south (see my Madagascar cruising notes on Noonsite for more information).
SE Monsoon – April to October
Why one would want to leave Tanzania during the prime cruising period beats me, but it's been done. My wife and I did a delivery from Tanga to East London, SA, in May and day sailing against wind and current down the Mafia channel are not one of our fondest memories – but it can be done. The overnight anchorages come in very handy.
From Mtwara head E/NE for +-100nm out of the current and then turn south and run across the current in SE wind until you are well below Cabo Delgado and in the south flowing Mozambique current, where things get a bit more relaxed.
Alternatively, head out further and approach Mayotte from the north and head SE towards Madagascar, as there is a calm pocket behind Madagascar up to Mayotte even in the SE trade.
Cruising the East African coastline is rewarding, but is all about timing. I'm sure I have left out some pertinent information, so do contact me and I will try and answer your questions.
FAIR WINDS
Des & Nell
Ex. SV Gambit
Des and Nell Cason used to run the Madagascar relay station for the Peri-Peri net. Although no longer resident in Madagascar, Des and Nell have sailed this area extensively and welcome the opportunity to stay involved in the well being of fellow sailors. Contact them by E-mail at [email protected]
Places
Dar es Salaam, Kenya, Kilifi, Kilindoni (Mafia Island), Mtwara, Tanga, Tanzania, Zanzibar
User Comments
You must register first or be logged-in to leave a comment.
No comments for this post.