PNG: A Quick Guide
Previous Page
Report Intro
A great source of information for anyone planning to cruise the remote and exotic islands of Papua New Guinea.
Report Content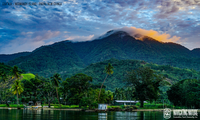 As reported by navigatingnature.com.
Papua New Guinea remains a land of mystery for many sailors as the waters are vastly uncharted, anchorage goes from dangerously shallow reefs to extremely deep drop-offs with strong currents in most areas and there is very little information available as to where to go and what to see. We struggled to find much of anything online and therefore we decided to create this quick guide to PNG to hopefully make your journeys much less complicated than ours were.
A great deal of our information was obtained by speaking to the locals. Often we would sail up to an area and were greeted by villagers on canoes showing us where it was safe to anchor and once it was time to move on they then suggested us where we should go. With our guide, we desire to help you plan an adventure of a lifetime in a land that is truly a different world from ours but don't just rely on our words. We highly recommend you to make friends with the island people everywhere you go and they will enrich your experience and maybe even have a few more secrets we didn't know about or forgot to mention. With that, we give you our quick guide to PNG, for more detailed information on each area see our separate island guide articles.
See full article.
Date Last Edited
November 27, 2018 - 06:55 AM
User Comments
You must register first or be logged-in to leave a comment.
No comments for this post.