Iceland: Updated Information for this Destination
October 2013: Iceland does not feature on many cruiser's itineraries, but this report might interest those sailors willing to explore more of Northern Europe.
Published 10 years ago, updated 5 years ago
The RCC Guide to Faroes, Iceland and Greenland by Willie Ker is being superseded for the 2014 cruising season by a new North Atlantic Guide.
Reykjavik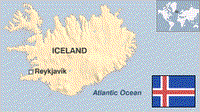 There is one change to the old guide we would like to mention about Reykjavik. The old inner harbour is full of small local boats and the mentioned floating visitor pontoon is full of day tripper boats and no longer usable for cruisers. However, Brokey Yacht Club, to port on entering the harbour has a floating visitor pontoon with room for 2 yachts and a detached floating pontoon with room for more. If you plan to stay in Reykjavik for more than a few days, the YC is usually able to find a slip on the member's pontoon. The charges are nominal, there are restrooms, showers, a washer and dryer and wifi is broadcast to the docks. The YC is under the large glass Harpa Building.
Call Harbor Control on VHF 12 to announce your arrival. They, in turn, will call Customs if Reykjavik is your first landfall and they will meet you on the dock. Customs also drives by the dock a few times a day so in any case, stay put and you will be found shortly.
Isafjordur in the West Fjords. 66 04.21N 23 07.49W (Winter pontoon)
Isafjordur is most likely the best winter harbour in Iceland. Transient and local boats are kept in the protected inner harbour along a massively rebuilt floating pontoon. The harbormaster's office overlooks the pontoon. We have had several blows during Egret's time here (2013) and each time there is a combination of local folks and the Harbormasters office personnel on the docks every few hours. Lines are taken across to the opposite dock during the winter to suspend the boats off the dock. The boats are well tended and they are safe. The harbour is ice-free. The West Fjords are cruisable all winter. One local charter yacht takes skiers on multi-day trips to ski over different mountains connecting the fjords and picks them up on the other side. There is a local ski lift in town. Spring and fall are a bird watcher, photographer and hikers paradise. There are local national parks nearby accessible by water only.
Boats that prefer to store on the hard are lifted by a giant container lift and stored on their keel with shoring behind protective buildings. The rig must be pulled. There are 2014 plans to build a cruiser's lounge with toilets, showers, washer and dryer and broadcast wifi to the pontoon.
Isafjordur is a small town of 2650 friendly folks with all services. The town supports a large fishing fleet so all boating services are available except specific sail items. Isafjordur is also the largest town in the West Fjords with a local airport and flights year around. The main roads around the island are kept open year around. Each year there are around 10 European boats staging in Isafjordur for the trip across to East Greenland. Isafjordur is the closest safe harbour. However, it also makes sense as a winter spot for boats arriving in Iceland from the west without having to move on east and face late season weather. This allows extending the cruising season in Greenland. The following year, boats are a short distance from the Faroes or Norway and non-EU boats can optimize their time in Scandinavia, the Baltic or the UK.
Since 2008, prices in Iceland have greatly reduced. The only unreasonable prices are for rental cars. There are relatively inexpensive ferry services to and from a number of ports in Europe to Iceland. From North America, Eimskip is one local shipping service to and from Halifax. In 2013 it cost $2350 USD to ship a container with a car or truck from Halifax. Considering dockage for a 14m boat is less than $2 USD/day*, it isn't a budget breaker. Having your own car in Iceland to explore the island during your over-winter time here would be priceless. Inland Iceland is one of the most scenic countries in the world.
*Electric is metered and billed at the end of the term.
Scott & Mary Flanders
M/Y Egret USA
The opinions expressed in this article are the author's own and do not reflect the view of noonsite.com or the World Cruising Club.