Cruising Scotland
Previous Page
Report Content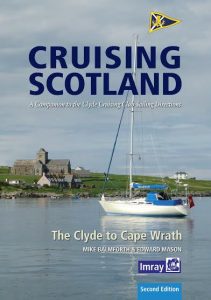 CRUISING SCOTLAND
The Clyde to Cape Wrath
Mike Balmforth & Edward Mason
Published by Imray – www.imray.com
A4, Full colour, 224 pages, Hardcover
ISBN: 978 184623 697 6
July 2015 – 2nd edition
£27.50
This generously illustrated book has been designed as a companion to the Clyde Cruising Club's Sailing Directions and covers the Scottish west coast from the Clyde to Cape Wrath and all the outlying islands.
It was first written by the late Journal Editor, Mike Balmforth, in conjunction with the Editor of the Sailing Directions, Edward Mason, who has now prepared this second edition in collaboration with Imray.
Cruising Scotland provides additional information, points of interest and many photographs and is a fascinating and invaluable addition to the Club's publications.
No yacht cruising the Scottish west coast should be without a copy.
Edward Mason, a retired architect, has sailed on the west coast of Scotland for forty years and for many of them has been a member of the Clyde Cruising Club publishing team. He has edited the CCC Sailing Directions for the past eight years.
(Editor's Note: The Clyde Cruising Club website is also a useful resource if cruising Scotland. It has a good section on Publications with details of all of the Imray/CCC books – http://www.clyde.org/publications/)
Places
Forth and Clyde Canal, Scotland, United Kingdom
User Comments
You must register first or be logged-in to leave a comment.
No comments for this post.