Previous Page
General Info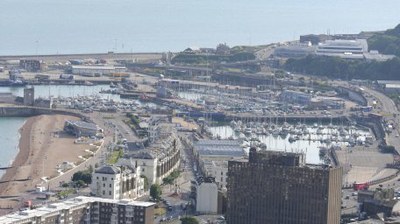 Situated on the southeastern corner of England, Dover is the closest port to the French coast. The Dover area is extremely busy at all hours of the day or night. Ferries and ships enter and exit the harbour at high speeds. It is advisable to contact Dover Port Control on CH74 and notify them of your course and intentions, even if only passing by. Notifying them keeps you on their radar until your well out of range of the high-speed craft, ferries, or shipping.
In spite of being a busy commercial port, yachts are very welcome here and there are good facilities in protected berths.
Photo taken by SY Suwena July 2013.
Position 51° 06.67'N, 01° 19.81'E (outer harbour entrance)
Clearance
Docking
Permission must be obtained BEFORE entering (or leaving), by calling Port Control on VHF channel 74 or attracting the attention of a harbour control launch (5 short flashes).
With over 160 ferry movements per day, great care is needed when negotiating either of the two entrances. Also, beware of the strong cross-tides in the approaches.
From 3 hours before until 1 hour after HW Dover, the tide runs into the western entrance and at all other times it runs out of the entrance at up to 2.3 knots. From 2 hours before to 4 hours after HW Dover, the tide outside the harbour flows in a northeasterly direction and at all other times it runs south-west.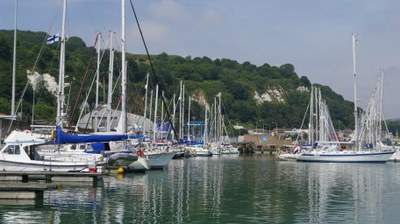 Marina approaches 
Dover has an Outer Harbour containing the ferry and deepwater commercial berths and an Inner Harbour, between the Prince of Wales and Admiralty piers where the Marina is located. An approach channel between the North and South piers has an average dredged depth of 5 metres gradually reducing as it enters the Tidal Harbour.
Yachts are often met at the entrance by a harbour control launch and advised on suitable berthing.
Most visitors use the marina in Granville Dock (see photo taken by SY Suwena), but pontoon berths are also available in the Wellington Dock and the Tidal Basin, and visitors' buoys in the outer harbour. There is an anchorage in the outer harbour, but it is generally uncomfortable due to the constant movement of ferries.
Anchored boats cannot be left unattended here.
For more information about the harbour, see here.
Harbour Master
Tel: +44 (0) 1304 240 400 ext. 4520
Fax: +44 (0) 1304 225 144
VHF Channel 74 (Port Control & Harbour launch), 12, 16
Duty Harbour Master Tel: Mob. 07836 262713
Last updated April 2016.
Related Businesses
Yacht Clubs
Related Businesses
Royal Cinque Ports Yacht Club

Address: 5 Waterloo Crescent, Dover, Kent, CT16 1LA

Visiting crews welcome. Clubhouse includes a bar, dining room open daily at lunchtime and in the evenings Monday to Saturday. Food from light snacks to... Read More

White Cliffs Motor & Yacht Club

Address: United Kingdom,

The Club is based at Cullins Yard, a marina-side restaurant overlooking the Wellington Dock. Real ale in its 2 bars along with a la carte... Read More
Places
Dover, South Coast, United Kingdom