Previous Page
General Info
Ipswich, tucked up to the River Orwell, away from the bustle of Harwich, is an interesting and historic port of call. It is still a working port and an eye must be kept out for the quite large ships which still use the quay opposite the yacht haven.
Position: 51° 57.67'N, 01° 16.95'E (R. Orwell entrance)
Docking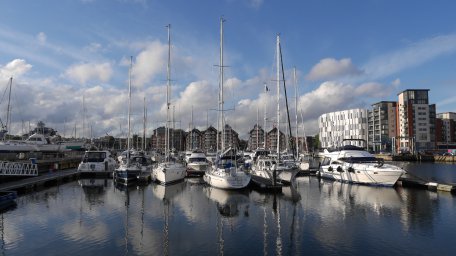 The Ipswitch Haven marina (see the photo taken by SY Suwena) is accessed via a lock (see details re. locking through below). If the HW tide prediction is for more than 4.5m, these gates will be closed and it will not be possible to go in or out. During big spring tides, it is, therefore, advisable to contact Ipswich LockControl (VHF 68) if you plan to enter or leave near the top of the tide.
There is a waiting pontoon on the west side of the entrance if needed. When in the marina and intending to leave, most locals will request lock-out before leaving the dock: occasionally it takes a few minutes to cycle the locks. There is also a waiting pontoon to the west of the lock, but local workboats are tied up nearby and it might be hard to see.
There are a total of five marinas to choose from in the area, as well as several anchorages and buoys on the way up the river. But, beware, most of them dry and East Coast mud is notoriously sticky! The river is also home to the well-known "Butt and Oyster" pub at Pin Mill, as well as several traditional sailing barges.
All marinas except the Neptune Marina have 24 hr access.
Prince Philip Lock
VHF 68
Call the lock before passing under the Orwell Bridge to request permission to lock through.
This lock can be found in two very different states:
(1) with the lock pontoon in, or
(2) with the lock pontoon out.
Because large warships, container ships, and tall ships occasionally use this lock, there is a removable floating pontoon inside the lock. The pontoon is necessary for smaller craft or moderately-sized yachts to tie up inside the lock safely.
Last updated April 2016.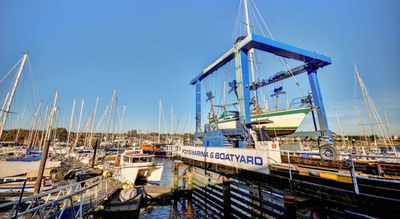 Royal Harwich Yacht Club Marina
Related Businesses
Fox's Marina & Boatyard

Address: The Strand, Wherstead, Ipswich, IP2 8SA

This popular marina is on the outskirts of the town. Good shelter in all conditions. Accessible at all sea states. 100 pontoon berths (up to... Read More

Ipswich Haven Marina

Address: New Cut East, Ipswich, Suffolk, IP3 0EA

Situated in the old port, close to all the town's amenities. Toilets, showers, restaurant and bar. Fuel, gas, chandlery, 70-ton boat hoist, a wide range... Read More

Neptune Marina

Address: Neptune Quay, Ipswich, Suffolkd, IP4 1AX

VHF Channel 68 (lock) or 14, 80 (marina)

Situated in the heart of historic Ipswich, conveniently close to shops, restaurants and other attractions. Access is via... Read More

Pin Mill (moorings)

Address: River Orwell, Ipswich,

Royal Harwich Yacht Club Marina

Address: on the River Orwell, Marina Road, Woolverstone, Suffolk, IP9 1BA

http://www.rhyc.demon.co.uk  [Broken Link]

54 berth marina on River Orwell between Levington and Ipswich. Full tidal access. On-site services. Visitors are welcome and moorings are available. Restaurant... Read More

Shotley Marina

Address: Shotley Gate, Ipswich, Suffolk, IP9 1QJ

350 berths, 24 hours access, boatyard, wifi.... Read More

Suffolk Yacht Harbour

Address: Levington, Ipswich, Suffolk, IP10 OLN

http://www.suffolkyachtharbour.ltd.uk [Broken Link]

An independent marina in a beautiful rural setting on the River Orwell. Approximately 500 berths with extensive facilities, launderette, yacht club, and repair... Read More

Woolverstone Marina

Address: Woolverstone, Ipswich, Suffolk, IP9 1AS

Set in parkland some 5 or 6 miles from the town, this marina offers 235 pontoon berths and 110 swinging moorings. Excellent facilities, good repair... Read More
Yacht Clubs
Related Businesses
Haven Ports Yacht Club

Address: Suffolk Yacht Harbour, Ipswich, IP10 0LN

Orwell Yacht Club

Address: Bourne Bridge, Wherstead Road, Ipswich, Suffolk, IP2 8LR

Royal Harwich Yacht Club Marina

Address: on the River Orwell, Marina Road, Woolverstone, Suffolk, IP9 1BA

http://www.rhyc.demon.co.uk  [Broken Link]

54 berth marina on River Orwell between Levington and Ipswich. Full tidal access. On-site services. Visitors are welcome and moorings are available. Restaurant... Read More

Stoke Sailing Club

Address: Slumpy Lane, Freston, Ipswich, Suffolk, IP9 1AA

Suffolk Yacht Harbour

Address: Levington, Ipswich, Suffolk, IP10 OLN

http://www.suffolkyachtharbour.ltd.uk [Broken Link]

An independent marina in a beautiful rural setting on the River Orwell. Approximately 500 berths with extensive facilities, launderette, yacht club, and repair... Read More
Places
East Coast (UK), Ipswich, United Kingdom