Previous Page
General Info
Monastir is one of the principal towns in the eastern part of Tunisia and is 160 Km from the capital, Tunis.
The "monastery" after which the town was named, was built by an Islamic religious order in 797 to defend the town from roaming nomadic tribes and Byzantine warships. The fortress houses a lovely museum of Islamic art and artefacts.
Monastir is 187 nm from Malta and Malta is 54 nm from Ragusa, Sicily. It is a useful place to visit if you need to reset your Schengen or VAT clock.
There are a good marina and boatyard here, however, space on the hard is limited so advance booking is recommended. Prices are moderate and quality reported to be good. Fuel is reported to be cheap. See comments at bottom of the page.
Position 35° 46′ 11″ N, 10° 50′ 5″ E (marina)
Clearance
Customs and Immigration officials are resident at the marina, just a few doors down from the marina office.  Check-in is reported to be straightforward however cruisers do warn of the "baksheesh" culture (see comments at bottom of page).
The offices are in the white building on the starboard side past the yard and reception dock.
Last updated April 2018.
Docking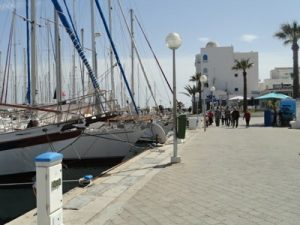 This is a popular place to spend the winter for liveaboards with Saturday night get-togethers and Sunday barbeques.
Monastir Marina has about 400 berths and is well maintained in a tourist setting with reasonable security. Monitoring of your boat in your absence can be provided and is included in the price. The marina provides a club room and boat-owners organise various activities. Booking for a winter season here has to be done well in advance due to its popularity.
NOTE: The marina does not accept credit cards, only cash. Protection is good but it can be windy.
Last updated April 2018.