Previous Page
General Info
Approximately 500 yachts visit Tonga every year. Most of them visit the Vava'u group in northern Tonga, stopping in Neiafu with its mix of shoreside establishments and marine services. There are over 40 anchorages in the Vava'u group, all within 10 nms of each other.
Neiafu is on the southern coast of Utu Vava'u, the principal island of the Vava'u archipelago. With the opening of The BoatYard here in August/September 2015 – brand new yacht haulage and hard stand facility – boats can now haul out and stay in Tonga during cyclone season.
International flights direct to Nadi, Fiji, commenced in April 2016.
Cafe Tropicana is now hosting an AIS Receiver on behalf on www.marinetraffic.com. Data can be seen on the website free.
Be aware that Vava'u has 3 FADs (Fish Aggregating Devices) on the reef south of Pangi.
In Neiafu VHF CH 26 is the cruisers' channel with booster aerials which allow you to use this channel throughout the Vava'u group. In season a cruiser's net operates at 0830 each morning and is very useful to find out about local services and what events are on.
Position: 18°39.47'S, 173° 58.98'W (anchorage)
Position: 18°40.4'S, 174° 01.95'W (entrance channel)
Clearance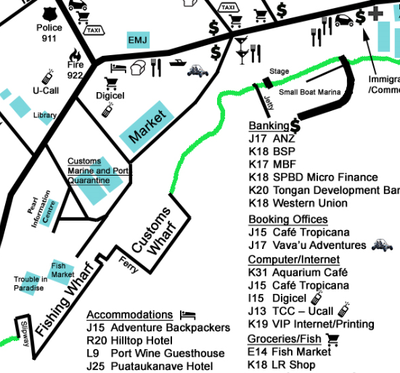 See Tonga/Formalities for full clearance details and fees.
On entering the harbor, if this is the first entry into Tonga, yachts should announce their arrival on VHF 26. A member of VVRMA (Vava'u Volunteer Marine Response Association) will reply and assist with the clearing in procedure.
International Clearance:
Berthing Note:
Do not tie to the main ferry pier (the one perpendicular to the shore) – the ship's vertical rubber fendering makes it impossible to fender a yacht. Go alongside the fisherman's pier just before it and the first dock as you enter the harbor (see map). At busy times be prepared to let fellow sailors raft up.
This is still a pretty horrible quay with large tires and is not a good spot to be when it's blowing hard as it directly faces the SE. It is important you have your fenders high up on low tide (port side) as there is an overhanging edge that yachts with low freeboard could slide under. In strong winds blowing you onto the pier it can be difficult to get off.
If possible, try to lie alongside a local fishing boat. If you feel that docking here would be unwise, take a mooring buoy further inside the harbor and proceed directly to the officials who are usually understanding if you say it is dangerous.
You may be asked for a small fee for use of this wharf- be sure to get a receipt.
Clearing-in:
If you arrive at the weekend, it is recommended to fly your Q flag and go to the wharf on Monday by 09:00. Strictly speaking, you cannot go ashore before Monday, however, if you must report to the Police station. Call VHF Ch. 26 VVMRA in an emergency (monitored 24/7). VHF Ch. 26 is also monitored by Police, Customs and other Government departments.
The Authorities will all come aboard, eventually. It could take four hours to complete the process. Alternatively, go and find the authorities yourself, although this could be equally frustrating.
Customs, located by the main wharf, also cover Immigration.
Vava'u marine and ports is upstairs above Customs.
Quarantine will charge a rubbish fee (this tends to vary).
Health are based at the Hospital and do the Practique for $100, they can be hard to find but be sure to go and pay as you will need to show the Practique to enter your next country.
There are ATMs close by to pay for the fees in cash (Tongan dollars). Ensure you get government receipts. Officials are reported to be efficient and friendly but be sure to remove any shiny objects from view on board (fishing lures and alcohol) to reduce possible corruption.
Clearing-out:
When leaving for a foreign port, you will need to clear out at the fishing pier where you arrived. Go to Immigration first, and then the Port Captain to pay harbor fees (see directions above). You then need to take your boat to the fishing pier and clear out with Customs. After Customs you are expected to leave immediately.
Domestic Clearance:
If clearing to move to or arriving from another island group, it is permissible to anchor and dinghy ashore to visit the relevant offices.
Day sailing within the island groups is not restricted, but a Local Movement Report (Small Craft) is required when moving between groups served by customs offices (see Documents for details).
Any harbor dues should be paid prior to visiting Customs as the receipt needs to be shown to obtain the Local Movement Report. Go to Immigration first (no fee), and then the Port Captain to pay harbor fees (10-minute walk, road opposite Westpac heading north, fourth turn, end of tarred road, turn right, follow the road, ministry of Infrastructure on right with major road working machinery). Customs by the main wharf must then be visited to obtain the Local Movement Report provided free on showing payment of Harbour Dues.
There is no need to take your boat back to the fishing pier for a domestic check-out. On arrival at the next island group, one must contact Customs on arrival. When traveling between Nuku'alofa and Vava'u, or vice versa, one can request that the Local Movement Report includes Ha'apai if intending to stop in that island group.
Clearance Hours:
Boats are cleared between 08:30 and 16:30 Monday to Friday. They are closed for lunch, usually 12:30-13:30. Lunchtime, after-hours, and Saturday check-ins are sometimes available by special arrangement and for a fee.
If arriving after hours or at weekends and you prefer to wait until normal office opening times, boats are allowed to stay at anchor, flying the Q flag, but may not go ashore until clearance is completed. Report to the wharf at 09:00 on Monday morning. If you must go ashore before then, you are required to report to the police station.
Clearance Assistance:
The local radio net, VHF Ch. 26, 08:30, 7 days a week, will help provide useful information, run by various local marine operators.
VHF Ch. 26 is also monitored by Police, Customs and other Government departments. It is monitored 24/7 and can also be used for emergencies (call VVMRA).
Last updated: February 2019
Marine and Ports – at the wharf
Docking
When entering the Harbour call Marine and Ports (Harbourmaster/Customs) on VHF Ch. 26.
Neiafu harbour is very well protected and experiences fewer cyclones than Fiji and there are a few operators who rent cyclone moorings for that season which conform to insurance standards. Some will also provide an excellent, reliable caretaker service.
Moorings:
Yachts can hire moorings on both sides of Neiafu Harbour. Remember that all the moorings belong to someone, so request permission before picking one up and enquire about strength for your size of boat. Many are not properly marked. Don't try to just pick up a mooring without clearing in, the officials watch carefully.
Moorings can be rented from Beluga Diving (VHF 09) or Moorings (VHF 72) for approx T$15 per night. Weekly or monthly rates can be arranged. All moorings are marked. Arrange a mooring prior to picking it up. Moorings (Charter company) own some moorings, but mostly for their Fleet of charter yachts, so be sure to check first before picking one of theirs up.
In the outer anchorages, the moorings in Hunga (anchorage #13) belong to Ika Lahi (CH 71) or Hunga Haven (Ch 26); in Tapana (anchorage #11) they belong to Tapana (CH 10) and in Mounu (anchorage #41) to Mounu (CH 77).
Most of the moorings' management offer boat caretaker services and some are cyclone proof moorings.
Anchoring:
If you choose to anchor instead, it is important that you do so far enough away from any moorings. On the western-side, there are some good anchor spots toward the north. On the eastern-side, there is plenty of room more to the south. Anchorage space can be a problem close to town because of deep water, except where most moorings are located.
Cruisers have sent in a warning report about a local call Alofi. Read report here.
The owners of the Cafe Tropicana are Port Officers for the OCC, NZ ICA (Island Cruising Association) and the SSCA. There is a TransOcean Cruising Club Port Captain – Elki and Verner – based in Hunga on VHF 26.
Other Islands:
The eastern barrier reef islands of the Vava'u group are stunning. To reach them, it is necessary to navigate a narrow channel through coral, so few boats head that way.
Last updated: February 2019
Related Businesses
Beluga Diving

Address: next to Sunsail, Fangafoa Marina, Neiafu, Vava'u, Tonga,

Rents moorings - pink or blue-green numbered buoys.... Read More

Moorings – Neiafu (Vava'u)

Address: Tonga,

Yacht charter company occasionally have moorings for private yachts – check first. Raymond the base manager is very helpful and will come out and meet... Read More
Yacht Clubs
Port of Refuge (Vava'u) Yacht Club is located at the Mango Cafe.
Related Businesses
Cafe Tropicana

Address: Fatafehi Road, Neiafu, Vavau, Tonga,

Filtered rainwater by jerry can, they will loan you the car if required. Daily Butane gas runs (range of adaptors available as Homegas does not).... Read More