Previous Page
General Info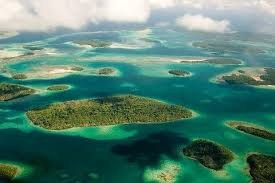 Marovo Lagoon is located in the New Georgia Islands, east of Vangunu Island. It encompasses 700 square km, much of which is navigable. It is protected by a double barrier reef system.
The Marovo Lagoon World Heritage Area is located in the Marovo Lagoon. There are a handful of resorts in the area and an airstrip at Seghe. The villages in the area are famous for producing some of the most skilled wood carvings in the Solomon Islands. See shopping section for info on purchasing wood carving.
Position: 8° 34.58′ S, 157° 52.58′ E (Seghe Town)
Clearance
For full details on clearing into and out of these Islands see Formalities.
This is not a port of entry. The nearest port of entry is Noro.
Docking
Depths in Morovo lagoon vary with much of the lagoon over 100m in depth with clear water. There are several entries from the East through deep, wide passes between the reefs. The lagoon is also accessible from the West. Much of the lagoon is navigable and there are many protected anchorages.
There is an anchorage and dinghy dock at Seghe town which is directly next to the airstrip.
There are several anchorages around the lagoon which are well protected from both wind and swell by a double barrier reef.
There is a protected anchorage inside Mbilli pass just north of Minado Eco Resort which welcomes visiting yachts.
Places
Marovo Lagoon, Solomon Islands, Western Province (New Georgia)