Previous Page
Facts
COVID-19 Yachting Protocols: See Biosecurity for more information.
As an isolated population, Pitcairners are at severe risk from possible outside infections, therefore extra health checks are sometimes made on visitors.
Pitcairn Island is a small isolated volcanic island in the South Pacific, its closest neighbours the Gambier Islands to the west and Easter Island to the east. Only three square miles of land, with steep cliffs all around, the sole anchorage is at Bounty Bay which is tenable only in settled weather.
Pitcairn is a dependency of Britain, together with the uninhabited Henderson, Ducie and Oeno islands. It is administered by the British Consulate in Auckland, New Zealand, but day-to-day affairs are run by an island council.
Supply ships are supposed to call three or four times a year but there is no regular service. Other ships used to call regularly to buy fresh produce and handicrafts from the Islanders, but this has declined with the cessation of passenger liners and the increase of container ships on tight schedules. Nevertheless, ships continue to call at Pitcairn, on average about one every week. Between 20 and 30 yachts stop at Pitcairn every year, where a warm welcome awaits the cruising sailor who calls at this remote community, whose entire history has been intrinsically bound up with the sea.
Although the anchorage in Bounty Bay is an open roadstead, by keeping an eye on the weather, one is usually able to spend some time on the island. Everyone leaves Pitcairn with unforgettable memories of having been hosted by one of the most isolated communities in the world.
Adamstown, the only village on the island, is on the northern coast, near Bounty Bay.
If any emergency repair needs to be made, the Islanders will undoubtedly help, as they have to do all the maintenance on their own boats, generator and engines, both inboard and outboard, and are practised at coping without outside help.
The Islanders are extremely welcoming, but some cruising sailors have abused this generosity and overstayed their welcome. The once free launch service (with donations) to and from your boat, now has a charge (see clearance).
Security
There is a permanent police presence on Pitcairn.
Weather
The climate is subtropical in the SE trade wind belt, with the most pleasant weather from November to March, when the winds are also lighter and the seas smoother. Pitcairn is very rarely affected by tropical storms.
Pitcairn Island Weather Forecast

A useful guide to South Pacific weather resources compiled by a Noonsite contributor, Rory Garland.
For links to free global weather information, forecast services and extreme weather information see the Noonsite Weather Page.

Courtesy Flag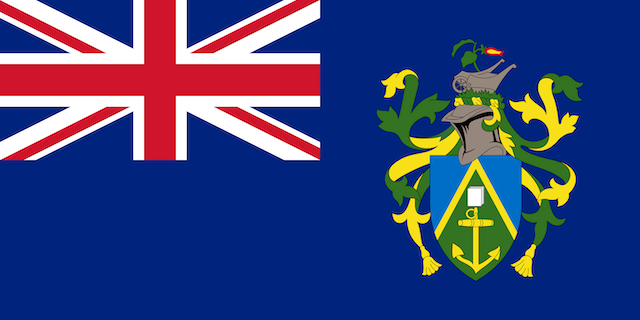 YachtFlags.com offers a discount to Noonsite members.
YachtFlags.com provides high quality courtesy flags that are manufactured in durable Knitted Polyester fabric. Knitted so that the fabric itself does not deteriorate in the constant movement that marine flags are usually exposed to, and polyester so that the flag does not weaken in the strong UV-light usually found in the main sailing areas of the world.
Use the coupon code NOONSITE_5A2B when checking out to get 10% off today.
Buy Now On YachtFlags.com
Places