Previous Page
Facts
Norway occupies the western side of the Scandinavian peninsula, a mountainous forested land, with deep dramatic fjords cutting into the coast. This wild grandeur makes Norway one of the most beautifully scenic countries in the world.
A chain of islands stretches parallel to the western coast and extends almost as far as the North Cape. They provide a huge amount of sheltered water for cruising and many safe anchorages.
The majestic fjords indenting the mainland coast cannot fail to impress, but as the anchorages in many of the fjords are extremely deep, forward planning is required to find a quay or pontoon to tie up to.
Although the number of cruising boats visiting the northern part of Norway is still relatively small, this area often has warmer and drier summers than further south, with the added advantage of many more hours of daylight.
The south and east coasts of Norway are very active boating areas and have more crowded destinations. The scenery is not so dramatic but still most attractive.
Popular destinations beyond the Arctic Circle include Spitsbergen (Svalbard) and, if not quite so adventurous, the Lofoten Islands.
There are relatively few commercial marinas still, but docking or mooring provisions for visiting yachts can be found in nearly all ports, although they are not always available for boats over 13m. Some docks may be privately owned and permission to use it should be obtained first. Anchoring is free everywhere.
Due to the fishing and oil industries, repair facilities are fairly wide-spread. In particular, centres such as Oslo, Stavanger, Haugesund, Alesund, Stord and Bergen in the south, and Harstad, Bodo and Tromso further north.
Provisioning is good everywhere, but the price of food and eating out is generally high. Fuel is usually available in all ports. LPG containers may be exchanged (not re-filled) only in the main centres, and it may be necessary to have the right adaptor. Not all vendors stock all sizes.
Although winter sailing appeals to some hardy souls, it worth noting that most facilities (including water and electricity) are unavailable during that period in many ports.
An essential resource when sailing here is at www.kartverket.no/en/Maps–Nautical-Charts/Nautical-Publications/The-Norwegian-Pilot-Guide.

Weather
The coast of Southeast Norway has the warmest and driest weather as well as the coldest in winter. The weather in Western Norway is unreliable and generally wetter, although much milder in spring, autumn and winter.
In North Norway, winter air temperatures can persist even into July although in still weather, temperatures are raised by the long daylight hours and it can even be warmer than further south – 20+°C. It is a surprising fact that in the Lofoten Islands, the Gulf Stream keeps the mean temperature above freezing point in all months of the year and in July maximum temperatures reach well above 20degreesC.
Summer weather beyond the Arctic Circle, both in continental Norway and further north, is unreliable. Winds can be strong and the weather can change rapidly. Visibility can sometimes be poor, with low mist.
In winter, the SE coast regularly freezes over but in the west spring and autumn both last a month longer and the temperature rarely falls below 0 C. Severe storms can occur between November and February.
Take local advice if planning to winter afloat.
Telephone information :- Bergen +47 55 23 66 00 for South Norway Tromso +47 77 68 40 44 or +47 77 62 13 00 for North Norway +47 82 021 021 for Lofoten, Harstad, Andenes
Online – http://www.yr.no/english/1.2025949
Use this online service at Norway Weather Forecast. to obtain a 2-day weather forecast for a chosen area.
See this useful map of VHF channels for weather forecasts for Norway and Sweden www.stockholmradio.se/sites/www.stockholmradio.se/files/VHF-kartan%20Norden%202016.pdf. However, it is also possible to check on VHF ch 16 where they will advise which working channel they will broadcast the weather every day at 9:00, 12:00, 15:00 and 21:00 local time for your area.
For links to free global weather information, forecast services and extreme weather information see the Noonsite Weather Page.
Courtesy Flag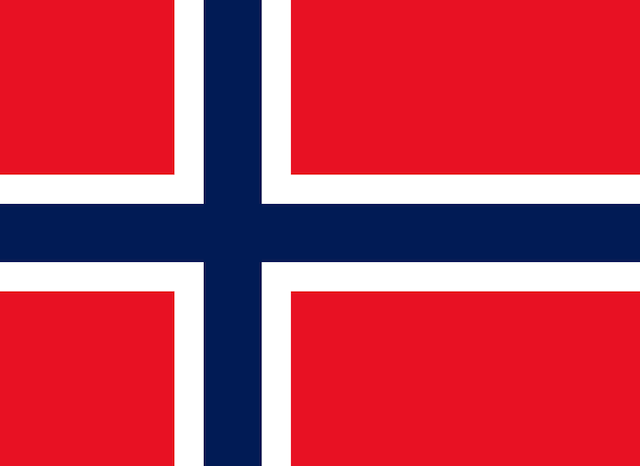 YachtFlags.com offers a discount to Noonsite members.
YachtFlags.com provides high quality courtesy flags that are manufactured in durable Knitted Polyester fabric. Knitted so that the fabric itself does not deteriorate in the constant movement that marine flags are usually exposed to, and polyester so that the flag does not weaken in the strong UV-light usually found in the main sailing areas of the world.
Use the coupon code NOONSITE_5A2B when checking out to get 10% off today.
Buy Now On YachtFlags.com
Places