Previous Page
General Info
This is a fascinating city full of narrow lanes and medieval buildings. It has many specialist and unusual shops. A good place from which to visit Pompeii and Vesuvius.
With the building of a new marina to the south and the breakwater extension by the city completed, this is a very good winter stopover port being so close to the Amalfi coast.
Position:  40°39.77' N, 14°44.43' E (harbour entrance)
Clearance
This is a Port of Entry.
Customs are based here.
Last updated:  January 2017.
Docking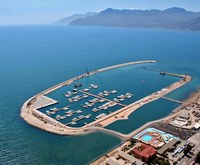 The new marina 3NM south of Salerno, Marina d'Arechi, is very well protected, with good facilities and very helpful staff. There is also a good restaurant in the marina and cocktail bar. Security is reported to be excellent with gate codes on each pontoon and on the main gate. There are plans to add a lot more to the marina, but no fixed timescale and latest reports are that construction is still on-going in the western portion of the marina.
As the marina lies south of the city, the disadvantage is that it requires transport to Salerno and to the nearest supermarkets. The marina organises car hire (which delivers to the marina) and taxis and there are bicycles which can be used free of charge. It is a very secure spot however to leave a boat if returning home or exploring inland.
Alternatively, if you can find space, there is berthing nearer the city at Porto Turistico (Porto Masuccio) or at Porto Nuovo. Now the Molo Di Levante breakwater has been extended, the shelter is good.
It may also be possible to anchor between these two marinas in two meters.
Last updated:  May 2017.
Places
Italy, Salerno, West Coast (Italy)