Previous Page
General Info
This harbour is tucked into an enclosed bay on the northern tip of the island of Paxos. This is an attractive spot with plenty of interesting activity during the summer. While the harbour has space on the dock for about 40 yachts, approx. half the space is reserved for flotilla companies.
Position:  39° 14.39'N, 20° 08.05'E (bay entrance)
Docking
Photo provided by Peter Ter Haar
Take care in the harbour as the depths are uneven, but it is reported that there is more water in the SE corner than shown on the chart.
Docking
There are some free berths on the quay in front of the bars with approximately. two meter (6.5 ft) depth (see yellow line on map). Moor here stern-to. Holding is good in thick mud. The quay is very low as shown in the photo (just 20cm above sea level) so bow-to is not advisable. Half the available dock space here (green line on map) is taken up by charter companies. However private yachts do moor here sometimes when space is available.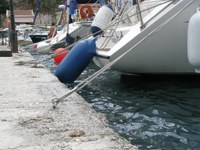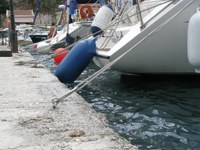 Water 7€ for half an hour if using the hose from the travel agent, located in the middle of the quay. There is also an official electricity box with 4 plugs plus 4 outlets for water (see blue dots on map). Payment is via a card that can be purchased in several of the local shops.
As with most town quays, rats can be a problem here, so it is important to take the necessary precautions with any mooring lines.
Anchoring
Yachts can anchor off and take a long line ashore. The bottom is sand and weed with good holding.
There is also an anchorage outside the harbour, in the bay.
Shelter is generally good, though in strong northerlies it can be uncomfortable.
Re-provisioning is very easy here with a supermarket (red dot on map) just steps from the dock.
Last updated September 2013.
Places
Greece, Ionian, Lakka (Paxos)