Previous Page
Facts
Important pre-arrival information: Greek Cruising Tax (TEPAI) should be registered for and paid online, in advance of your arrival in Greece. See Formalities for all the details.
Greece is a peninsular and mountainous country located in SE Europe, in the Balkans peninsula, and has a land area of 128,900 km2 (49,769 sq. miles). The country has the largest coastline in Europe (13,676km) due to its numerous islands. There are 2,000 Greek islands, but only 168 are inhabited. Athens is the capital of Greece.
The population is estimated at 10.7 million people.
The vast majority speak Greek, which is the country's official language. The other languages spoken are Macedonian (called "Slav-Macedonian" in Greece), Albanian, spoken in the centre and the south, Turkish, spoken by Muslim communities around the Aegean, Arumanian and Bulgarian. None of these minority languages has official status.
Greece is part of the European Union and the currency is the Euro.
The standard time is Eastern European Time (UTC+02:00). See General Info. for more details.
The climate along the coastline is Mediterranean in character: mild moist winters and dry hot summers. See Weather for more details.
The crowds are also seasonal and it certainly pays to cruise Greece outside of the peak summer months, ideally around Easter, which is the main holiday in the Greek Orthodox calendar. The autumn months are just as attractive; both winds and weather are more pleasant than in the Meltemi-swept months of high summer.
Although the more popular places on the Aegean are quite crowded, especially during the high season, there are still plenty of less frequented places dotted around the rim of the Aegean and some of the more remote islands rarely see more than a handful of yachts.
The recent expansion in yachting has been accompanied by a parallel development in facilities, but fortunately, none of the picturesque ports have been ruined by the construction of pontoons in centuries-old harbors. Most marinas have been built inside newly built breakwaters or reclaimed land and in most islands yachts still either come stern-to the existing quay, if there is space or stay at anchor. Most of the new marinas are on the mainland and this is also where the best repair facilities are.
If looking to take an annual contract in a Greek marina, be aware that it may well stipulate that you avoid the marina during the summer months, or have your boat on the hard during the summer. This may be due to the availability of space for charter fleets or for visiting yachts, which is where most marinas here make their money.
The greatest concentration of facilities is in the Athens-Piraeus area, where there are several boatyards with haul-out facilities and a full range of repair services. See Yachting Essentials for more details.
Security
Overall Crime and Safety:
Generally Greece is a trouble-free country for cruising boats, in particular in the Islands. The main areas where theft is on the rise is around Athens and the major harbors and resorts. Take sensible precautions with securing your boat and equipment, as you would anywhere.
There are regular strikes in Greece which are sometimes called at short notice and can cause disruption to public transport in and out of the country (including air travel and ports). Demonstrations take place regularly in central Athens and have also taken place in other towns and cities. You should avoid all demonstrations and follow the advice given by local security authorities.
For travel advisories, see the following websites:
Maritime Issues:
Migrant Situation: Since the Migrant Crisis began in 2015, people are still trying to reach Europe with most migrants coming through the Eastern Mediterranean. A large proportion of migrants have first set foot on European soil in the Greek islands of the Eastern Aegean. Thousands have ended up in camps on Lesbos, Chios, Samos, Leros and Kos.
Greece has stepped up security on its borders, particularly in the Eastern Sporades and Dodecanese. With the increase in Greek Coastguard patrols it is wise to keep a listening watch on VHF Channel 16 at all times. Increased pressure from Turkey to stop migrants leaving Turkish shores has seen a dramatic decrease in numbers attempting the journey,
however many still do. In 2020 the Greek Government were planning to install a floating barrier off the island of Lesbos as an emergency measure to try and reduce the flow of migrants to Greece.
If recreational vessels spot migrant boats, it is important to have a plan to avoid interaction. Migrants have been known to sink their own boats to force a rescue mission. Contact the Coast Guard to notify them of the position of any migrant boats encountered so that the appropriate action can be taken.
GPS Interference: A continuing problem when sailing between Crete and Suez is that no NTMs are issued if the signals are being blocked for training. The Maritime Administration (MARAD) posted an Advisory stating that multiple instances of significant GPS interference have been reported worldwide in the maritime domain, resulting in lost or inaccurate GPS signals. It could put one 20-200 nm away from where one thinks. Plotting one's course on paper charts can help recognize that this is happening.
Latest Reported Incidents:
Egina, Palanco Boatyard, 2018: Attempted Theft.
Be sure to check related security reports for Greece.
Weather
Spring and autumn weather is the most pleasant, while the summer is hot and dry. Winters are mild in Crete and Rhodes and cooler as one moves north as well as inland.
The prevailing summer winds are northerly. The seasonal wind of summer, called Etesian in Greece because of its seasonal character, but better known by its Turkish name Meltemi, sets in about May and lasts until September. It blows at its strongest in July and August when it can reach force 7 and even 8 on occasions. More details can be found here.
Violent storms occur only in winter, February being a particularly bad month, but overall the weather is pleasant and extreme conditions are rarely known.
Related Businesses
Greek Meteorological Service (HNMS)

Address: Greece,

Includes eastern Med and Black Sea marine forecast.... Read More

Leros Marina

Address: Evros S.A., P.O. Box 30, Lakki Port, Leros Island, Greece, 85400

Position:  37°07',76 N 26°51',40 E

All facilities with 220 berths with laid moorings, fuel, laundry, WiFi, First Aid, restaurant.

Boatyard with 50/60 and 160 ton travel hoists.... Read More

Online Greek weather forecast

Address: Greece,
Courtesy Flag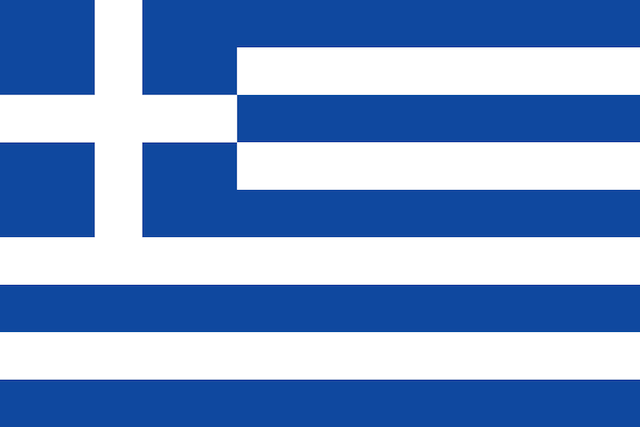 YachtFlags.com offers a discount to Noonsite members.
YachtFlags.com provides high quality courtesy flags that are manufactured in durable Knitted Polyester fabric. Knitted so that the fabric itself does not deteriorate in the constant movement that marine flags are usually exposed to, and polyester so that the flag does not weaken in the strong UV-light usually found in the main sailing areas of the world.
Use the coupon code NOONSITE_5A2B when checking out to get 10% off today.
Buy Now On YachtFlags.com
Places