Previous Page
General Info
Olib is a small island that lies NW of Zadar, SW of Pag, SE of Lošinjand and just E of Silba. It's approx. a 3-5 hour sail from the ACI Marina Simuni on Pag Island.
The island has 140 inhabitants and a lively summer festival. It also offers good shelter from bad weather.
Position 44° 22.87'N, 14° 46.45'E (harbour)
Docking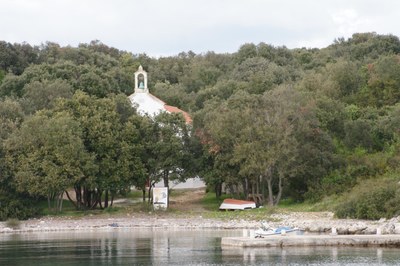 There are 2 bays on Olib, both with mooring buoys. Berthing costs in the summer of 2017 were 20KN (about 2.70 EUR) per meter for both bays.
SW Bay: (44.354383, 14.773464)
E Bay: (44.3851088,14.792277)
The moorings license holder is reported to be a very friendly and helpful person.
Slightly north of the bay on the E side of the island, at  (44.395831, 14.801736) there is a good anchorage offering protection from the SW, W, NW and N. Holding is good.
Photo of Chapel on the west side of the bay from Reinhold.
Last updated December 2017.
Places
Croatia, Northern Islands (Croatia), Olib