Previous Page
Clearance
Since visits by private yachts are rare here, it is recommended that you connect in advance with an agent who can help you navigate the clearance process without any issues. This is especially relevant if there is no French speaker on board. Give the agent prior notice of arrival so they can "prepare" the officials accordingly.
See Clearance Agents for details.
Begin contacting the "brigade du port" (Port Captain) on VHF Channel 16 on approach. Their VHF is limited and they may not answer until you are quite close. Be ready to use French.
Authorities prefer that yachts do not anchor out, but instead come directly to the dock at the Port Captain's office.
The agent will greet the yacht at the dock and officials will board the boat.
Offices are only closed on Sundays. Clearance is supposed to be available at any time, but in practice it is advisable to ensure daylight arrival.
There are officially no overtime fees. However, some cruisers have reported being asked for these when arriving on a Sunday or at night. See Fees for details of clearance costs.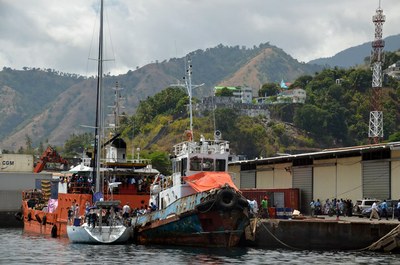 At Mutsamudu, you will be expected to tie up against the old tugboat in front of the Port Captain's office for clearance immediately, even if you arrive at night (see photo courtesy of SV Totem – September 2015). Expect to be boarded and searched. It might be wise to hide valuables such as laptops and phones.
The Port Captain here will issue domestic clearance to Moheli at no charge.
Last updated: August 2017.
Immigration
Passports must be valid for six months beyond your stay.
Visas are required by all nationalities but can be obtained on arrival from Immigration in either Moroni (Grande Comore) or Mutsamudu (Anjouan).
Visas may be issued at the port, or at the immigration offices in town. Your agent can assist with having them processed in town (you may have an initial stamp for arrival at the port, but not a visa).
It is possible to get a 45 day visa or one year visa. The 45 day visa costs approximately 30 Euro. The long-stay one year visa costs 255 Euro.
Passport photos may or may not be asked for. If you have one, take it with you. It has been reported that photos can be taken on the spot.
Last updated:  August 2017.
Customs
Firearms must be declared to customs.
Expect to be searched. In 2015, the first boat to arrive was very thoroughly searched (lockers emptied, floorboards lifted, etc.). Later boats had only a cursory walk-through and some weren't searched at all.
In 2015 yachts report that they were not provided with any clearance documents from customs, nor were they asked to make any customs declarations or charged any fees.
Any plants on board must be inspected by the Comoros Agriculture Department and a certificate will be issued.
Last updated:  August 2017.
Health
In August 2016, an outbreak of Foot and Mouth disease in Reunion and Rodrigues resulted in strict food import restrictions. See this Noonsite report.
Any meat or dairy products may be destroyed.
Malaria: Following testing Comoros-wide by a Chinese pharmaceutical company, malaria is on the verge of being eradicated.  However, the CDC and the WHO still remain cautious and suggest still taking precautions to avoid mosquito bites. See this article for further details.
Outbreaks of cholera have been reported on all three islands.
All water must be regarded as unsafe unless boiled or treated.
There are some bats known to carry Rabies. Take necessary precautions to avoid exposure.
Last updated:  August 2017.
Fees
Harbour police and local gendarme: 10,000 CF (or 20 Euros) each.
Port Captain: 25,000 CF(or 50 Euros).
In the past, police/gendarme fees were negotiable and often higher; this should now be a fixed rate that new arrivals can expect.
There are officially no overtime fees, however, some cruisers have reported being asked for these when arriving on a Sunday or at night.
Visas cost 15,000 Comoros Francs (CF) per adult (or 30 Euros) and 1,000 CF per child, for a maximum stay of 45 days. NOTE: the official government website (entirely in French) lists visas at a lower cost, but this seems to be out of date.
Last updated: August 2017.
Local Customs
This is a Muslim country and Islamic law must be respected. Sensitivity regarding standards of dress should be observed.  Women especially should dress conservatively and men must not wear shorts or go shirtless in public. During the month of Ramadan, one should not eat, drink or smoke in public.
Women should not enter mosques unless specifically told they can do so.
Take care not to photograph any official buildings or people (without permission).
Clearance Agents
Maketse in Mutsamudu has been recommended as an agent.
He helps with clearance formalities and can provide tours of Mutsamudu and Anjouan. He will also arrange security for your yacht and dinghy while ashore. Maketse says it is very helpful to have advance contact to smooth the arrival process. He speaks English, but his French is better.
Using an agent helps avoid excessive fees, although recommendations should be asked for and if possible, a fee agreed in advance.
Last updated:  July 2017.
Pets
Animals need a rabies vaccination and health certificate from a veterinarian.