Previous Page
General Info
Grand Cayman is the most visited of the Cayman Islands and the best for supplies (but these can be expensive) and services. Good for snorkeling as well as diving.
It is a popular stopover for yachts on passage between Panama and Key West, Florida.
It is also a popular stop for cruise ships and the prices charged reflect that..
Position 19° 18'N, 81° 23'35″W.
Clearance
See the general Cayman Islands Formalities page for full details.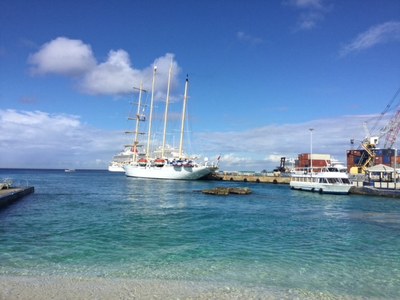 Port security operate on VHF channels 16 & 14 and work efficiently 24 hours a day. Call them for clearance instructions.
Customs and immigration are at the main commercial dock and will normally ask you to go alongside to complete formalities (see photo, courtesy of Brian Simm). It is possible to decline to do this if conditions are such that the concrete dock might damage the boat. In this case, it's likely that the harbor patrol boat will come and collect you.
Boats must arrive with an outbound clearance from their last port of call.
Officials are reported to be very polite, helpful and friendly.
Clearing out can be done on shore and all the crew must attend.
Cruisers have reported being fined for failing to fly the "Q" flag upon arrival, dropping an anchor on coral (you must anchor in sandy spots only), or failing to report directly and immediately to George Town (unless advised otherwise by George Town Security).
If any cruise ships have recently arrived, yachts will need to wait until they have been cleared first.
If there is a strong northwesterly wind, then the Authorities may direct you to anchor at Spotts Bay on the southern side of the island (be sure to avoid anchoring in coral!)
Last updated in January 2018.
Docking
Moorings
Visiting yachts are normally directed to the 5 free moorings 250m north of the port. These are large red buoys. If all are occupied then ask permission to anchor.
There are many moorings around the island and should be used in preference to anchoring if possible. Moorings at dive sites are identified by a white buoy with a blue strip and are available to the public at no charge. Normally they should only be used for an hour or two, but can be used overnight when diving for the day has finished.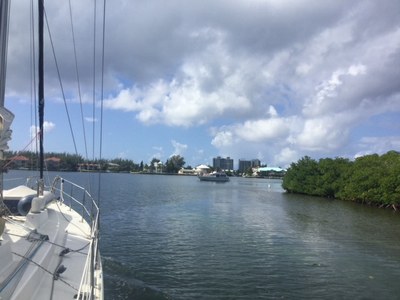 Anchoring
There is very limited anchoring off George Town and it is generally uncomfortable due to the movement of the many cruise ships and ferries. This anchorage is exposed to Northerly winds.
North Sound is much calmer and quieter and from here it's possible to hire a car and explore the island. Beware of the shallow depth (max. 7ft) in North Sound.
Enter North Sound carefully, through a poorly marked pass which should not be attempted in Northerly winds, or any weather above 20 knots approx.
Inside North Sound, there are several anchorages amongst the mangrove creeks and millionaires' houses (mostly depths of 2.5 to 3m) and marinas. Governor's Creek lies on the west side of the Sound near the Cayman Island Yacht Club, which has fuel etc. (see a photo taken by Brian Simm with the yacht club in the distance).
At the southern end of Governor's Creek is Mitchells Creek. Both these anchorages are sheltered and convenient for shops. Max. draft 6ft.
Getting Ashore
Dinghies can be landed almost anywhere, except where cruise ship passengers are being landed (due to security concerns). See photo of dinghy docks north of Georgetown, taken by Brian Simm. Cruisers recommend locking dinghies to the Lobster Pot dive center dock, but always secure your dinghy and outboard when coming ashore.
Marinas
The marina, run by the Cayman Islands Yacht Club, in North Sound, has been extensively re-built and has visitor berthing.
Harbour House Marina and Boatyard is midway along the South side of North Sound. This is less of a marina and more a yard with tie-ups along a channel.
Barcadere Marina is in the SW corner of North Sound and is just north of the airport.
The restaurant, Kaibo, in the NE corner has some berthing, although it is rather remote from the town.
A more recent alternative for docking (max. depth 5.5ft) is in the large commercial shopping village of Camana Bay, where new canals have been dug.
Last updated on January 2018.
Related Businesses
Yacht Clubs
Related Businesses
Barcadere Marina

Address: Location 19°18.190'N/81°21.521'W, 612 North Sound Road, PO Box 12084, George Town, Grand Cayman KY1 1010, Cayman Islands,

This marina lies about 7 miles inside the reef on Grand Cayman's North Sound. Max. draft 8ft at HW. If draft over 6ft contact for... Read More

Cayman Island Yacht Club

Address: 164 Yacht Drive, West Bay, George Town, Grand Cayman, Cayman Islands,

Extensively re-built after being destroyed by hurricane Ivan.

All facilities, fuel, pump-out, WiFi, chandlery, dive tank refills, provisions, bar, cafe, restaurant. Boatyard with repair services.... Read More

George Town Yacht Club – George Town

Address: Located at The Barcadere Marina, 612 North Sound Road, PO Box 12084, George Town, Grand Cayman, Cayman Islands, KY1 1010

Location 19°18.190'N/81°21.521'W

The GTYC is a restaurant and bar with a pool and lounging area, offering inside, poolside and dockside dining, private bar and balcony and... Read More
Places
Cayman Islands, George Town, Grand Cayman