MAYDAY! On passage from Mo'orea to Huahine catamaran "Tanda Malaika" violently hits an unmarked reef
Previous Page
News Intro
When they asked us what happened and we told them that our chart did not show a reef, they asked us if we had been using Navionic charts, and I said yes. He then shook his head and said that at least five boats end up on those reefs a year who were using Navionic charts.
News Item Content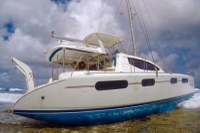 On July 23rd, at approximately 8 pm, Danny and Belinda Govatos with 4 of their children aboard their 46′ Leopard catamaran hit an unmarked reef on the approaches to Huahine, in French Polynesia, South Pacific. They were using Navionics charts and were just about to sit down to dinner.
Tanda Malaika has been their home for over 2 years and they all have become quite experienced and passionate sailors.
It was dark and they were almost to their destination. Their Navionics charts incorrectly indicated they were in deep water and the boat hit a huge reef. 8-10 ft waves pushed the boat further and further onto the coral. Their home immediately began taking on water. Other boats in the surrounding area attempted to assist the Govatos Family but it was soon obvious they had no choice but to get the coast guard involved. They were flown by helicopter to Huahine.
All the crew were safely evacuated and no one was hurt, Tanda Malaika however still remains on the reef and has taken on so much water and damage that she will have to be sunk. The family were between insurance providers when this event occurred. The salvage company will charge $5000 an hour as they work to tow the boat off the reef and into deeper water to sink. The family also have to pay another salvage company to remove the sails, generator and possibly the mast.
Belinda Govatos wrote a first-hand account of the disaster and also identifies some valuable lessons learned.
Read the full write up at https://adventuresofatribe.com/2017/07/23/mayday/
Date Last Edited
January 30, 2018 - 01:00 PM
User Comments
You must register first or be logged-in to leave a comment.