Indonesia: Super Yacht Asia Sinks Following Collision with an Unidentified Object
Previous Page
News Intro
This report was updated a few hours after it was posted with accurate facts from Asia's owners: Yacht Asia, a 29m superyacht, was lost in the early hours of Saturday morning on 23 November in the middle of the Flores Sea after a deepwater collision with an unidentified object.
Last Update - November 26, 2019
News Item Content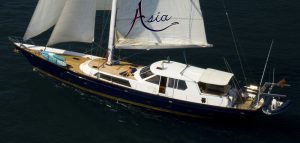 Charter superyacht ASIA was en route from Sorong, Indonesia to Langkawi, Malaysia, and then onwards up to Phuket, Thailand when she hit an unidentified object in the middle of the Flores Sea and sank.
The four crew had time to board the yacht's RIB and safely get ashore. Reports state that ASIA sank 55 miles off the Indonesian town of Bima in the West Nusa Tenggara province.
Her sinking sparked an international search operation when the Australian maritime authority, who picked up the initial distress call, believed the yacht to be UK registered.
Although the owners of ASIA had already terminated their previous UK registration (and changed it to Malaysia) and indeed held the UK registry Confirmation of Termination letter, for some reason the DSC radios still had the older UK registry programmed into them since original purchase. Consequently, this led to confusion with HM Coastguard who were alerted but after much searching could not find the yacht on the UK registry.
Fortunately, they did discover that a US registered EPIRB had been activated in the same area close to the time of the initial distress call leading them to confirm that in fact the yacht was Malaysia registered, so they could finally make contact with the skipper.
Our thanks to Debbie of ASIA for confirming the facts.
Related Links:
29 metre sailing yacht Asia sinks off coast of Indonesian Island – Boat International
Superyacht Sinking In Indonesia Sparks International Search Operation – Afloat
HM Coastguard calls for skippers to update systems following luxury yacht sinking – Marine Industry News
Places
Update History
26 November, 22:00: Confirmation of facts received from owners of ASIA and news item and title updated.
26 November: News item posted using a variety of news sources
User Comments
You must register first or be logged-in to leave a comment.
No comments for this post.