Greek Cruising Tax considered lawful by European Commission
Previous Page
News Intro
Although it has yet to be implemented, the new Circulation Tax (TPP) applicable to all boats over 7m sailing in Greek waters, has now been ruled lawful by the European Commission. This report by Yachting World.
News Item Content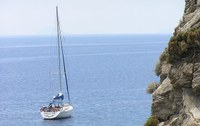 THIS REPORT IS NOW OUT OF DATE. LATEST UPDATE HERE.
The European Commission has deemed a Greek cruising tax introduced at the end of 2013 to be lawful following concerns from Britain's Royal Yachting Association (RYA).
A confirmation letter was received by the organisation earlier this week stating that the Commission considers the tax on boats of 7m or more in Greek territorial waters to be lawful under EU law.
The Greek TPP tax will apply to all boats in the country's waters, regardless of its flag state or the nationality of the owner.
The RYA expressed concerns over the tax, which is yet to be implemented, saying that it appeared to conflict with the Commission's efforts to encourage recreational boat tourism within Europe.
In a statement, the RYA said: "The European Commission has reviewed the Greek legislation and has concluded that the tax does not contravene EU law.
"It remains to be seen, however, whether the recent political changes in Greece will have an impact on the speed with which this legislation is implemented, if at all."
The Greek TPP tax means that boats with an LOA of 12m or less will have to pay a single yearly fee, either when they arrive in Greece or on launching:
7.1 to 8m = €200 per year
8.1m to 10m = €300 per year
10.1m to 12m = €400 per year
While boats with LOA of more than 12m can choose to either pay per month or per year:
Per month = €10 per metre LOA
Per year = €100 per metre LOA
Boats that spend more than 11 months in Greek waters can claim a 30% discount on the yearly rate.
Related articles
Greek tax concessions announced for yachts
Find out more about the Greek cruising tax by visiting the Cruising Association's website.
Article from www.ybw.com
Date Last Edited
October 09, 2018 - 01:15 PM
User Comments
You must register first or be logged-in to leave a comment.