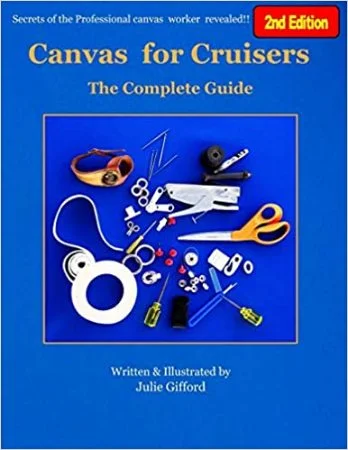 Canvas for Cruisers 2nd edition is a complete guide to sewing for boats with 873 illustrations and 81 photos. Starting with information about fabrics, notions and the tools you will need to get going, a detailed description of sewing techniques follows – such as how to sew different types of seams, installation of zippers, piping, hems, patches and reinforcing, binding edges and making patterns.
The book continues then, with how-to instructions for many projects inside and outside the boat. A separate section on cushions explains all you need to know about designing and constructing practical, comfortable and durable interior and exterior cushions that will stand up to harsh conditions.
Also included are all the essential interior projects to organize and beautify your interior space – storage bags, bedding, curtains, screens.
The last section covers repairs – to sails, and canvas – and how to prevent the problem from re-occurring.
For more details, see here.
By: Julie M. Gifford
Publisher : Julie M. Gifford (October 14, 2019)
ISBN-13 : 978-0986566721